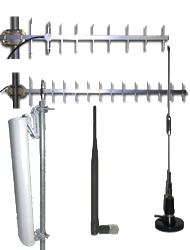 (PRWEB) July 02, 2014
ZDA Communications, a leading wireless antenna manufacturer, has recently introduced its brand new 4G LTE antenna collection on its website. This series is designed especially for 3GPP Long Term Evolution (LTE), and many hot-selling models like Yagi Antenna, Omni Directional Antenna, Parabolic Antenna,Sector antenna, and Access Point (AP) and Client Antenna.
According to the CTO of ZDA Communications, these new models are suitable for US 700 MHz LTE Band & Europe 2.6 GHz LTE band, and they support 3GPP 4G LTE network such as Verizon 750 MHz C BLOCK Band (746–757 and 776–787 MHz), AT&T 700 MHz B Block band (704–710 and 734–740 MHz) and more.
Moreover, these new models come with a free downloadable guide which gives tips on everything, so buyers and users won't need to worry about forgetting any important steps when they buy a 4G LTE antenna online.
To improve safety and efficiency, ZDA Communications has made much job on these new 4G LTE antennas, which combine the latest technology and design within the industry. As the 4G application is getting more and more popular in the world, customers can can enjoy a fluent connection to 4G network with ZDA's products.
A UK customer says, "ZDA Communications is a great supplier of all kinds of wireless antennas, and it can always solve various issues for us. Now it is an excellent opportunity for us to cooperate with this top antenna supplier, which focuses on strengths and talents within the industry."
About ZDA Communications
ZDA Communications US LLC is an ISO9001 manufacturer and supplier of all kinds of wireless antennas, including Yagi antennas, Parabolic dish antennas, cell tower sector antennas, External wireless antennas, mobile antennas, Broadband and Ultra Wide Band Antennas. For more details of ZDA Communication and its products, please visit http://www.zdacomm.com/wireless-antenna-category-by-applications/lte-antenna/.