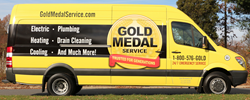 We don't want to see anyone lose their home – or their lives – due to a hurricane, so we make it a point to talk to customers about how they can stay safe.
East Brunswick, N.J. (PRWEB) July 03, 2014
Gold Medal Service, an award-winning heating, cooling, plumbing, electrical, drain cleaning, and waterproofing service company servicing all of New Jersey, urges area homeowners to prepare their homes and their families for hurricane season, which begins in June and runs through November each year.
Each year, several federal government agencies come together to promote awareness and readiness as the Atlantic hurricane season begins. Although many of the strongest hurricanes between June and November are concentrated in the southern Atlantic, Caribbean Sea, and Gulf of Mexico, New Jersey is certainly not immune to the dangers of high winds, heavy rains, and deadly flooding. In fact, Hurricane Sandy, the deadliest storm of the 2012 hurricane season, and the second-most expensive hurricane in U.S. history, concentrated its destruction over much of the New Jersey coastline. For that reason, Gold Medal Service urges families to take steps now to protect their homes and stay safe in the event of another huge storm like Sandy.
"Your home can be a haven or a hazard during hurricane season, depending on the steps you take to prepare and protect it," said Gold Medal Service co-founder Mike Agugliaro. "We don't want to see anyone lose their home – or their lives – due to a hurricane, so we make it a point to talk to customers about how they can stay safe."
The Federal Emergency Management Agency(FEMA) offers a wealth of resources to help families ready their homes for the possibility of a hurricane. Some of the preparations are easily do-it-yourself, while for others, a Gold Medal Expert would be happy to visit the home to help. These preparations include:

Learning the elevation level of the property and whether the land is flood-prone in the event of storm surge or tidal flooding.
Learning community hurricane evacuation routes and choose the best one in case of evacuation.
Covering all of the home's windows with permanent storm shutters, boards, or impact-resistant glass.
Clearing loose and clogged gutters and downspouts.
Installing a generator.
Turning off utilities and propane tanks.
Collecting a supply of water for cleaning and flushing toilets.
Keeping the refrigerator closed and having plenty of non-perishables for food.
If a hurricane does hit the home, stay indoors, on a lower level away from windows and doors – take refuge in an interior room or closet if possible. In the event of evacuation, drive only when necessary and avoid flooded roads, weakened bridges and walls, and loose or dangling power lines. Do not return home until officials say it is safe.
Once families return home, they should do the following:

Walk around the property and check for loose power lines, gas leaks, or structural damage.
Stay away from buildings with a gas smell, flooding around it, or fire damage.
Don't use tap water for consumption until sure it's safe.
Check refrigerated food and throw out anything spoiled.
If using a generator, keep it outside any buildings so as to avoid carbon monoxide poisoning.
Gold Medal Service plumbing and electrical service experts can help area families make any needed repairs after a hurricane and return the home to a safe haven once again.
"The most important thing in a hurricane is to protect your family," said Agugliaro. "However, once things are declared safe again, our experts will come out and fix all your plumbing and electrical issues to bring your home back to its usual level of comfort."
For more information about Gold Medal Service, call 800-576-GOLD or visit http://www.goldmedalservice.com.
About Gold Medal Service
Gold Medal Service, rated A+ by the Better Business Bureau, was founded in New Jersey in 1994 with just two employees. Their vision was to provide homeowners with a reliable and trustworthy home service company customers could count on to fix just about anything that could go wrong in a home. Since then Gold Medal has grown to include more than 120 employees and technicians solving plumbing, heating, cooling, electric, drain, waterproofing, and sewer issues for homeowners across the state of New Jersey. Gold Medal Service is an Angie's List "Super Service Award" recipient. For more information, call 800-576-GOLD or visit http://www.goldmedalservice.com.
###
For more information, contact:
Heather Ripley
Ripley PR
hripley (at) ripleypr (dot) com
865-977-1973