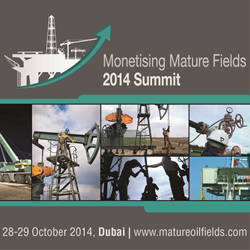 It's an IRN Summit!
London (PRWEB UK) 3 July 2014
The Forties Field, the iconic UK North Sea exploration field, is one of the best examples of a mature field success story. When the Forties started producing, experts were convinced the field would be shut down twenty years later. Yet forty years since it was first discovered, the Forties Field is still producing, with Apache recently finding a further 800 million barrels. Thanks to innovative geosciences and the right technologies, the Forties Field is even expected to be pumping oil for the next twenty years.
The Monetising Mature Fields 2014 Summit, taking place on 28th-29th October 2014 in Dubai, will examine the global mature oil and gas landscape, including the Forties Field and many other prominent examples of mature fields worldwide, to deliver best practices and provide the senior level delegates with key solutions and extensive knowledge on the latest technologies for smoother operations leading to improved performances and better returns on investment for their mature asset portfolio.
The discussions will be led by a strong panel of geologists, senior researchers and technical experts from major international oil and gas companies, who will share their extensive knowledge and experience on mature fields in significant regions of the world:

Walter Ondracek, Middle East & Caspian-Mature Field Developer, OMV E&P
Bob Alford, Senior Manager, Maersk Oil
Maâmar Djarir, Production Operation Geologist, Sonatrach
Chahine Bahri, Production Technology Team Leader, BG Tunisia
Dr. Rabia Hunky, Senior Reservoir Engineer Production & Reserve Development Department, National Oil Corporation Libya (NOC)
Abdollah Esmaeili, Senior Petroleum Engineer, National Iranian Oil Company (NIOC)
Dr. Mohammed Abdalla Ayoub, Department of Petroleum Engineering, Universiti Teknologi Petronas
David Robinson, Senior Research Fellow, Oxford Institute for Energy Studies
Maryam Dehghani, Petroleum Engineer, National Iranian South Oil Company (NISOC)
Dr. Reza Oskui, IOR/EOR Scientist, Kuwait Institute for Scientific Research
Iftikhar Mustafa Rizvi, Manager Work Over & EOR, Oil & Gas Development Company Pakistan (OGDCL)
For more information on the Summit, visit the website http://www.matureoilfields.com.