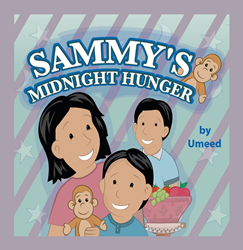 (PRWEB) July 10, 2014
Sammy's Midnight Hunger is a fun children's book that shows just what can happen when a little boy tries to make himself a snack in the middle of the night. Sammy is a cheeky and mischievous four-year-old with some great ideas. Unfortunately, he always seems to create trouble without even trying. This little boy can cause mischief no matter what the time of day!
For anyone, young or old, who has gotten hungry of the night, this is the book to read right before a midnight snack.
Watch the video on the attached pdf or at: http://www.youtube.com/watch?v=1y5THCVXvkM
SAMMY'S MIDNIGHT HUNGER (ISBN: 978-1-61897-255-2) is now available for $14.50 and can be ordered through the publisher's website: http://sbpra.com/Umeed or at http://www.amazon.com or http://www.barnesandnoble.com.
WHOLESALERS: This book is distributed by Ingram Books and other wholesale distributors. Contact your representative with the ISBN for purchase. Wholesale purchase for retailers, universities, libraries, and other organizations is also available through the publisher; please email bookorder@aeg-online-store.com.
About the Author: First-time author Umeed teaches in a primary school in the West Midlands, UK.