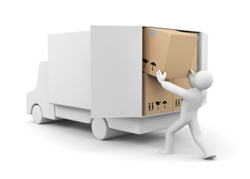 Atlanta, GA (PRWEB) July 03, 2014
1-800 Courier, a recognized leader in same-day delivery, distribution and transportation services, announces box count limits for small vehicle deliveries. The announcement is beneficial for its customers in order to improve delivery efficiency and assist customers in selecting the proper service online. The Los Angeles courier strives to be the best choice for courier and same-day logistic solutions industry nationwide.
The box count limit for small vehicles consists of a up to 4 standard-sized boxes, which can weight up to 50 pounds per box. Standard-size boxes are generally measured at 24x24x24 inches. With small vehicles, a higher box count could cause the vehicle to be prohibited from being optimized in performing multiple same-day deliveries, resulting in customer cost-savings and on-time courier deliveries.
Boxes at the correct size in small vehicles benefits 1-800 Courier and its customers. Small vehicles are selected on the customers behalf for the purpose of speed, whether it involves the origin and/or the destination. With the box count limit, it enables drivers to efficiently complete each same-day delivery request with minimum lifting requirements and prevents any box damage.
1-800 Courier offers small vehicle courier services nationwide, and orders can be placed via phone or online. If placing the order online, customers are recommended to advise the courier on any box dimensions or weight concerns that could be in question. Once the online order is received, 1-800 Courier will contact the customer resolve any box count or box weight discrepancies.
1-800 Courier is a premier same-day courier service offering transportation and distribution services provider. From small packages to palletized freight, 1-800 Courier delivers fast. As a leader in the courier industry, the company goal is to create optimal courier logistic solutions and provide superior customer service every time. The courier service provides same-day delivery successfully for over 1,500 clients, including Fortune 500 companies throughout the US.