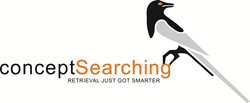 Two key objectives that should be priorities for any executive team are data breaches and non-compliance.
McLean, VA, US and Stevenage, UK (PRWEB UK) 9 July 2014
Concept Searching, the global leader in semantic metadata generation, auto-classification, and taxonomy management software, and developer of the Smart Content Framework™, is pleased to announce the publication, in the KMWorld Best Practices in Enhancing SharePoint White Paper, of the article 'Don't Enhance SharePoint – Transform it through Metadata.'
Metadata is, and has been for some time, the source of business challenges impacting search, eDiscovery, records management, data security, migration, social tagging, collaboration, and text analytics. SharePoint does not provide the ability to generate metadata, nor classify it to the Term Store.
This article, based on the results of a Concept Searching 'SharePoint and Office 365 Metadata Survey', offers a unique view on how SharePoint organizations are using, and would like to use, SharePoint and Office 365. Organizations are looking to solve business problems and the crux of these problems is metadata. Achieving organizational objectives and transforming SharePoint into a solid business solution delivering quantifiable business results is unobtainable until metadata generation and management are addressed.
"Metadata matters. The lack of understanding and management of metadata as the core component in any application that requires metadata is amazing. These challenges cross broad applications, from records management to social tagging. Two key objectives that should be priorities for any executive team are data breaches and non-compliance," said Martin Garland, President of Concept Searching. "This article only briefly touches on the importance of metadata, and offers a recommended approach that enables organizations to achieve business objectives, whilst at the same time develop an information governance strategy that will improve management of all unstructured and semi-structured content," he concluded.
About Concept Searching
Founded in 2002, Concept Searching is now the industry leader specializing in conceptual metadata generation, auto-classification, and taxonomy management. Platform agnostic, Concept Searching is also a Microsoft managed partner with a Gold competency in Application Development, and offers a complete suite of SharePoint solutions. The award winning technologies integrated with Concept Searching's Smart Content Framework™ encompass the entire portfolio of unstructured information assets in on-premise, cloud, or hybrid environments. Clients have deployed the intelligent metadata enabled solutions to improve search, records management, protection of privacy data, migration, text analytics, eDiscovery, and Enterprise/Web 2.0. Concept Searching is headquartered in the US with offices in the UK, Canada and South Africa. For more information about Concept Searching's solutions and technologies visit our Blog.
About KMWorld
KMWorld (http://www.kmworld.com) is the leading information provider serving the Knowledge Management systems market and covers the latest in Content, Document and Knowledge Management, informing more than 40,000 subscribers about the components and processes – and subsequent success stories – that together offer solutions for improving business performance. KMWorld is a publishing unit of Information Today, Inc.
All product and company names herein may be trademarks of their respective owners.