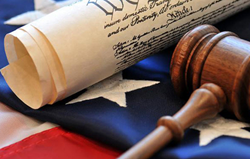 What if he didn't do it; was only there? -Juror (3-Page 115)
TULSA, OK (PRWEB) March 11, 2015
James L. Hankins Attorney at Law, and Thomas R. Zynda Attorney at Law, will be representing Michael A. Nolte in Caddo County District Court exactly twenty-eight years later on the day March 18, 1987 four men quietly stole from the Tazewell County jail in Pekin, Illinois. All were prisoners. (2) (4)
A day later, Mr. Edgar Allen was murdered while ferrying a new motor home to a buyer. Twenty-eight years later, only one of the escapees has been charged with this crime. (3)
The history of the following events is complicated, ending with Michael Nolte being sentenced to death as the sole slayer of Edgar Allen, chiefly based on the testimony and statements of the other three jailhouse witnesses who all stated they were never present at the murder scene (2) (3) (4). Nolte was re-sentenced to life in prison without parole in 1996. (3)
In 2008, some significant scraps of evidence of the 100 plus items listed on the OSBI trial evidence list were located in the Caddo County Courthouse. (3) Privately funded DNA testing was conducted on these elements by SERI, a California laboratory often used by the Innocence Project.
The testing excluded Mr. Nolte as being a contributor of blood found in pieces of carpet and rope testified to in the trials: it did not exclude two of the other escapees who testified as witnesses for the prosecution in Nolte's trial. (3)
Nevertheless, on March 1, 2013, Caddo County denied Mr. Nolte's Petition for Post-Conviction Relief: nearly four years after the petition was filed.(3)
On February 13, 2014, the Criminal Court of Appeals issued a mandate to Caddo County, which has yet to be responded to as of this day March 10, 2015.(1) (6) Thus the continued hearings scheduled for March 18, 2015.
After five and one-half years, on February 9, 2015, the State responded for the first time in writing to the Nolte Petition for Post-Conviction Relief, chiefly citing the testimony of one of the escapees. (5)
It will be interesting to watch the progression of this case in light of the new Oklahoma HB 1068.(7)
(1) Oklahoma Court of Criminal Appeals Docket CRF-1987-131 http://www.oscn.net/dockets/GetCaseInformation.aspx?db=appellate&cmid=111689
(2) Tazewell County Illinois Circuit Court 87-CF-78| 87-CF-91 | 87-CF-79 | 87-CF80
(3) Caddo County Oklahoma District Court Record CRF-1987-131 | http://www.noltegov.info | Court of Criminal Appeals State of Oklahoma Record CRF-1987-131 |http://law.justia.com/cases/oklahoma/court-of-appeals-criminal/1994/11564.html
(4) Tazewell County Illinois Circuit Court Records 86-CF-78 | 87-CF-202 | 86-CF-298 |86-CF-291
(5) Caddo County District Court Docket CRF-1987-131http://www1.odcr.com/detail?court=008-&casekey=008-CRF+8700131B
(6) Oklahoma Becomes 50th State to Guarantee Wrongly Convicted Access to DNA Testing to Prove Innocence | http://www.innocenceproject.org/news-events-exonerations/press-releases/oklahoma-becomes-50th-state-to-guarantee-wrongly-convicted-access-to-dna-testing-to-prove-innocence#sthash.Q7LP8cFp.dpuf
(7) Oklahoma House Bill 1068 Criminal procedure; creating the Postconviction DNA Act; providing eligibility requirements for postconviction DNA testing; effective date. http://webserver1.lsb.state.ok.us/cf_pdf/2013-14%20SUPPORT%20DOCUMENTS/SCHEDULED%20CCR/House/HB1068%20CCR%20A.PDF
CONTACT: James L. Hankins, Attorney at Law | http://www.ocdw.com | 405.753.4150
James L. Hankins is a sole practitioner of Hankins Law Office in Edmond, Oklahoma and a graduate of the University of Oklahoma College of Law. Mr. Hankins handles every manner of criminal trial and appeal, social security disability, and some personal injury cases.