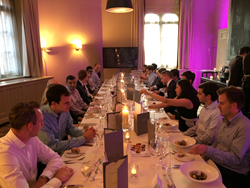 London (PRWEB) July 02, 2014
Applied Predictive Technologies (APT) hosted a dinner at the St. Pancras Renaissance Hotel in London last evening to discuss the findings of the joint report published by APT and the Economist Intelligence Unit, "Decisive Action: How Businesses Make Decisions and How They Could Do It Better." Executives from major European companies gathered to discuss how businesses make decisions and how they can use data to do so more effectively.
The discussion, led by APT CEO Anthony Bruce and APT VP Rupert Naylor, focused on the following topics:

How are executives using data in decision-making when the data is counter-intuitive to their beliefs?
How do executives blend intuition with data? How are executives doing this effectively?
With so much data available, which data should executives consider? And, how should they best incorporate it in decision-making?
Bruce commented, "It was an enjoyable, thought-provoking evening. Over 50% of companies surveyed by the Economist Intelligence Unit said that their organization's decision-making process could be improved by a better ability to analyze data. Lending weight to this argument, 45% of respondents who agreed that their company is growing faster than the competition also said they can predict decision outcomes by analyzing tests and trials. Among those who are not growing faster than their peers, that figure was just 10%. We are finding that more and more companies are effectively leveraging their Big Data by employing a Test & Learn approach to decision-making. A Test & Learn based approach has not only improved decision-making, but also has generated tens of millions in shareholder value."
To read the full report, please click here: http://download.predictivetechnologies.com/economist_intelligence_unit_report/
Visit http://www.predictivetechnologies.com to learn more about APT.
About APT
APT is the world's largest purely cloud-based predictive analytics software company. APT's Test & Learn™ software is revolutionizing the way Global 2000 companies harness their Big Data to accurately measure the profit impact of pricing, marketing, merchandising, operations, and capital initiatives, tailoring investments in these areas to maximize ROI. APT's client portfolio features the world's best known brands, including Walmart, Staples, Lowe's, Starbucks, Victoria's Secret, Hilton Hotels, and others. APT has offices in Washington, D.C., San Francisco, London, Tokyo, and Taipei. Visit http://www.predictivetechnologies.com to learn more.