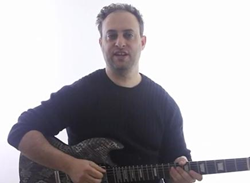 (PRWEB) July 02, 2014
A pinch harmonic is a guitar technique in which the player's thumb or index finger on the picking hand slightly catches the string after it is picked, canceling the fundamental frequency of the string, and letting one of the harmonics dominate.
"Artificial harmonics, aka squealies, is a really simple technique", says Johnson, "step number one, get some distortion on your amp, step two it's easy if you use the bridge pickup on your amp". Claude says that you simply pick the note with your pick and follow that a second later by letting the fleshy part of your thumb touch the string. Claude demonstrates a large variety of different places on the neck that these harmonics can be achieved and says that "some are easier than others". The specific spot of where to perform them varies from guitar to guitar and it's best to really refine your knowledge of where they work the best on your particular instrument. Claude makes the offer that if you have trouble doing this to go ahead and ask him in a comment on the video and he will be happy to help you. Guitar TAB's are available for this easy guitar lesson at GuitarControl.com.
Claude Johnson
Claude Johnson, a native of Philadelphia PA, began playing guitar in 1990 after being inspired by players like Jimi Hendrix, Eric Clapton, and Stevie Ray Vaughn. He is the creator of GuitarControl.com and has helped 1000's of people to learn to play the guitar with his critically acclaimed instructional DVD courses, all available at GuitarControl.com
About GuitarControl.com
GuitarControl.com is the leader in modern guitar instruction. It's packed with recourses including articles, video lessons, and the best videos in the business for the beginner to the advanced guitar student taught by the best instructors out there. Weather you are into the blues, rock, jazz, metal, folk, or anything in between, they have you covered.