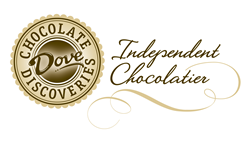 'Dove Chocolate Discoveries ™ has offered me an entrepreneurial opportunity and my personal business has been growing tremendously since I signed on with DCD,' says Independent Chocolatier Camille Lehmann
Fort Worth, Texas (PRWEB) July 03, 2014
Camille Lehmann, Dove Chocolate Discoveries™ Independent Chocolatier and special guest, Laurie Stuer, National Sales Director from the corporate office of Dove Chocolate Discoveries ™ are hosting a special Wine and Chocolate Tasting for fellow entrepreneurs and chocolate lovers, to learn more on how to pair delicious wines with premium Dove Chocolate Discoveries ™ exclusive product line and to learn more about this start up home-based business. This fun filled evening is Wednesday July 9, 2014 at Total Wine and More, 5200 South Hulen Street, Fort Worth Texas. All guests who RSVP will receive a FREE BOX OF DCD CHOCOLATES. Meet and greet is at 5:30 p.m. and Wine and Chocolate Pairing starts promptly at 6:00 p.m. Due to limited space, a firm RSVP is requested. For more information and to RSVP please call 817-521-9591 or email at smoothchocolate(at)outlook(dot)com.
Dove Chocolate Discoveries™ provides chocolate-lovers the opportunity to discover their inner entrepreneur or "Chocolatier" by starting an at-home chocolate business, beginning with hosting chocolate parties, selling exclusive Dove Chocolate Discoveries™ products and developing a network of Chocolatiers.
"Dove Chocolate Discoveries™ has offered me an entrepreneurial opportunity and my personal business has been growing tremendously since I signed on with DCD," says Lehmann, who was one of the first in Texas to join DCD. "I am involved with a startup company, at the ground floor and backed by a Global leader in chocolate – Mars, Incorporated. And everyone is happy to see the Chocolate Lady!"
Dove Chocolate Discoveries™ is a great opportunity for women and men who want to start their own at-home business and teach friends and family how to create "wow" desserts with ease, discover new ways to enjoy chocolate and learn about its origin. "Selling exclusive quality chocolate products at fun chocolate tasting parties – what could be better?" Lehmann said.
With consumer trends in product premiumization, home entertaining and entrepreneurship on the rise, today's marketplace is ripe for new Chocolatiers to join the Dove Chocolate Discoveries ™ family and work with exclusive products made from the world's finest chocolate and designed to exceed consumers' expectations. With the flexibility to choose between a supplemental or full time revenue source, Dove Chocolate Discoveries™ gives potential Chocolatiers the opportunity to discover their entrepreneurial dreams.
About Dove Chocolate Discoveries™
Dove Chocolate Discoveries™ is based in Mt. Arlington, NJ and is a division of Mars Snackfood US. Dove Chocolate Discoveries ™ is a national, premium chocolate direct-selling business available in the 48 contiguous states, offering exclusive chocolate products, recipes and non-edible items. For more information on the company please go to http://www.dovechocolatediscoveries.com.