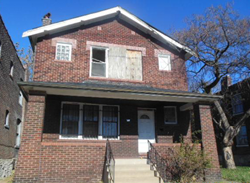 Chicago, IL (PRWEB) July 07, 2014
American Homeowner Preservation (AHP) is continuing to battle the nation's foreclosure crisis through real estate crowdfunding and announced today it has eradicated a "foreclosure zombie" in a St. Louis neighborhood infested by these vacant, derelict homes. Foreclosure zombies refer to homes that have been foreclosed on and abandoned by the owner, leading to decay of the property and blight in communities. RealtyTrac reported last week that, while zombie foreclosures are down 16 percent nationwide, New Jersey and New York experienced 58 and 38 percent increases, respectively, and Florida accounts for over a third of the nation's total.
AHP was able to resurrect one of these zombie foreclosure properties by executing a lease option agreement that allowed a St. Louis woman to pay $121.66 per month to lease the property along with an option to purchase. AHP purchases pools of distressed mortgages that are sometimes secured by vacant properties. AHP works to put vacant properties back into service to improve suffering communities, such as this particular St. Louis neighborhood. According to an appraisal describing the property, "the neighborhood displays a pride of mixed ownership with most homes in need of maintenance and updating. Neighborhood is a high crime area with many homes boarded and vacant."
Zombie foreclosures negatively impact communities by lowering surrounding property values, causing blight and attracting crime. The foreclosure process can be very lengthy, averaging more than one year in some states. Lenders also sometimes cancel the foreclosure after the homeowner has vacated the property, leaving nobody responsible for the upkeep. In the eradication and reoccupying of properties like this one in St. Louis, AHP is working to cure the infectious outbreak of zombie foreclosures and make sure vacant homes are quickly put back into service.
American Homeowner Preservation started in 2008 as a 501c3 nonprofit before transitioning to for profit and evolving into a socially responsible hedge fund. AHP recently added crowdfunding, offering 9 – 12% annual returns to investors. To learn more about AHP, visit https://ahpinvest.com, call 800-555-1055 or email info(at)ahpinvest(dot)com.