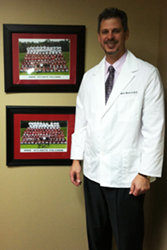 Atlanta, GA (PRWEB) July 02, 2014
Offering a revolutionary new method to combat gum recession in Atlanta patients, Dr. Randolph Moore utilizes the Pinhole Surgical Technique, PST™, to improve the appearance of those suffering with receding gums. The PST™ procedure is minimally invasive and can be performed for multiple teeth at one time. The improved appearance of the new gum line is immediately apparent after the treatment to the patient and others, and recovery time with the procedure is very rapid.
The Pinhole Surgical Technique™ combats gum recession in Atlanta patients by allowing the doctor to use a tiny pinhole in the gum tissue and special tools to loosen the gum tissue. The healthy tissue is extended over the area of the receding gums and held in place with tiny strips of collagen while the tissue heals.
The pinhole procedure allows Atlanta patients to get back to life activities rapidly following the office visit. Patients do not need to live with the unsightly appearance of receding gums, with the PST™ procedure they can have an attractive gum line immediately in place without the long healing time associated with traditional gum surgery. Since there is neither cutting nor stitching of tissue involved, the healing is quick following the procedure.
Visit the web at http://www.smilemooredentistry.com to learn more about the new techniques available to fight gum recession in Atlanta patients. Patients do not need to fear the stitching and cutting of gum surgery to find effective treatment for receding gums with the Pinhole Surgical Technique™ now available for Atlanta patients.
About the Doctor:
Dr. Randolph S. Moore is a general dentist offering personalized dental care for patients in the Buford, GA area for over 20 years. Dr. Moore received his degree from the University of Alabama in Birmingham, and completed his residency at the Veterans Hospital in Birmingham. Dr. Moore is active in the dentistry field and is a member of the Georgia Dental Association, the American Dental Association, American General Dentistry, American Academy of Cosmetic Dentistry and ICOI (International Congress of Oral Implantologists). To learn more about Dr. Moore and his dental services visit their website at http://www.smilemooredentistry.com/, or call (770) 545-6141.