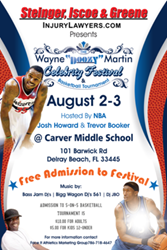 "We are people helping people and where we are as a firm family, we want to make things better."- Michael Steinger
WEST PALM BEACH, FL (PRWEB) July 08, 2014
In 2009, Thomas Benjamin, founder of Face It Athletics, met with local law firm Steinger, Iscoe, and Greene in an effort to build his dream of inspiring, equipping, and empowering at-risk and inner-city youth.
This year, when Benjamin was named one of six recipients of the Community Champions Award, he wanted the Sun-Sentinel to conduct his interview at the firm's West Palm Beach offices – a homecoming of sorts. When asked why he chose to meet at the personal injury law firm's office Benjamin said, "It is rare that you meet a business with the heart for their community and people as Steinger, Iscoe and Greene has. This firm made my dream of impacting the community possible back in 2009 and has stood by me ever since."
Without any actual presence in the local community at the time, but armed with a dream, Benjamin was on a mission to uplift the community by providing opportunities for both youth and adult empowerment through education, communication, and recreation. According to his Sun-Sentinel interview Benjamin focuses on what he calls "…the seed years…" He explains this as ages 7 to 18 where "…we can plant the seeds that will help them grow into individuals who excel."
Benjamin's mission is completely in line with the firm's community commitment, so much so that Steinger, Iscoe and Greene was moved to make a multi-year, $20,000 pledge to help amplify Benjamin's dream and enable him to serve exponentially. One example of this amplified impact is the upcoming 3-day basketball tournament and family festival hosted by Face It Athletics in collaboration with Steinger, Iscoe & Greene in Delray in early August. Pulling together the forces and influences of local authorities – Fire Rescue, School Board, Police Department and Village and Carver Middle Schools – this year's event combines all parties for the good of the local community in a uniquely cooperative endeavor.
Making this type of contribution is nothing new for this firm. Since 1997 Steinger, Iscoe and Greene has been in the business of helping those facing some of life's most difficult challenges, helping families put the pieces of their lives back together after an accident or traumatic injury. Proactively, the firm has championed and advocated on behalf of children, especially the underserved, abused, abandoned or neglected, both in the courtroom and throughout the community. At the heart of the firm's resolve is its desire to positively impact all those with whom it comes in contact. Longstanding support of the Guardian ad Litem Program and Speak Up for Kids of Palm Beach County are testament to this steadfast mission and vision of the firm for the wellbeing of the South Florida community-at-large.
"Our firm is a part of this community - people helping people through some of life's most difficult times. Helping others is the basis for our opening the firm. We value our South Florida home and the opportunity to continually advocate for children and families right here. There is nothing more satisfying than knowing we can impact people's lives for good," comments Michael Steinger, founding firm partner.
How Steinger, Iscoe & Greene engages its local community is as important as the internal operational focus of the business. Steinger says, "We are people helping people and where we are as a firm family, we want to make things better."
About Steinger, Iscoe & Greene:
Steinger, Iscoe & Greene is a proven legal team whose number one goal is to get injury victims throughout Florida and California every dollar they truly deserve for their injuries. Since 1997, the firm has successfully handled thousands of cases including: auto accidents, bicycle accidents, birth injuries, product liability and catastrophic cases. The entire legal team is committed to representing and fighting for injury victims' best interests, giving each client insight into their individual rights as it relates to the law.
With more than 30 lawyers, 140 legal professionals, and offices throughout South Florida - Miami, Fort Lauderdale, West Palm Beach, Port St Lucie, Okeechobee, Ft Myers, Orlando and Tampa - and most recently San Diego, California, the firm is ready to advocate for the best interests of injury victims coast-to-coast while offering the No Fee Guarantee®; you don't owe us any money unless we get money for you.
Steinger, Iscoe & Greene
1645 Palm Beach Lakes Boulevard
Ninth Floor
West Palm Beach, Florida 33401
(800) 560 - 5059
http://www.injurylawyers.com