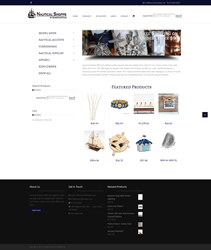 Jefferson City, MO (PRWEB) July 02, 2014
Front Page Digital is proud to announce the recent launch of their first large eCommerce client site, NauticalShoppe.com. In honor of this new achievement, the agency is offering tips for business owners looking to launch their own eCommerce site. Here are Front Page Digital's top 10 tips:
1. Don't assume people will just find the website.
The web is a big place, and people aren't going to find the website by accident. Business owners need a strategy that includes search engine optimization, search engine marketing, email blasts, social media and display advertising to build website awareness and drive traffic. Even traditional media can help. Be sure to include the web address or great #hashtags in traditional ads.
2. Do conduct AB testing to ensure the ads, products and user experience are optimal.
Consumer behavior isn't fool-proof. It's important to test everything along the online buying process. Are ads being clicked? Are customers searching for the product or service? Once they're on the website, do they click off immediately or look around?
3. Do get Google Analytics.
Google Analytics is a free service provided by Google that allows business owners to see important information such as visitor flow, best times for traffic and where referrals are coming from.
4. Do price check Amazon, Google Shopping and other large sites.
It may be the best website and have the best SEO out there, but users are still looking at household names such as Amazon for price comparisons. If the website doesn't stack up, business owners are going to lose out on a purchase. Better yet, get a good content management system that will create an RSS feed from the website to other online shopping sites. Front Page Digital is able to provide this to their eCommerce customers.
5. Do get organized.
Business owners need to know how they're going to ship items, calculate shipping, calculate taxes, intake orders and fulfill orders. Waiting until getting an order without a system in place is only going to lead to headaches later.
6. Do build responsively.
People are mobile. Electronic devices are mobile, and many brick-and-mortar shop owners report higher in-store traffic levels after creating a mobile-friendly eCommerce store. Consumers are researching before they come in to buy. Building a website that isn't responsive in 2014 is like buying a rotary-dial house phone.
7. Don't give up right away.
Building a website isn't like erecting a new building on a busy street corner. Without advertising and SEO, consumers don't know it exists, so it may take time for people to begin visiting the webpage.
8. Don't forget about customer security.
Would anyone want to send their credit card information over a non-secure website? Customers certainly don't. It's important to get the proper check-out security.
9. Do collect customer data.
Who better to market the latest products to than consumers who have purchased from the business in the past? They already know the quality and value the business provides, so business owners only have to sell them on the product, not the brand as well. Collect emails and buying habits to efficiently market to the current customer database.
10. Don't forget customer service.
If a customer is willing to get on the phone and call or send an email to inquire about a product, they're interested. Don't blow the sale by rerouting them to 1-800-bad-service. Allow for prompt support to help resolve issues before they happen and build brand loyalty with an all-out great customer service experience.
Launching an eCommerce website is an important venture with the potential to grow revenue with any business. Unfortunately, the plethora of options and variety of services available make knowing how to do this difficult for any business owner. While there isn't one right path for everyone, following these simple do's and don'ts will help ensure any eCommerce site is well on its way to profits.
About the company: The Jefferson City News Tribune was founded in 1865, and has been the advertising source that central Missouri businesses turn to when marketing their products or services. Today, News Tribune is much more than a newspaper. With the addition of Front Page Digital, Central Missouri Newspapers now hosts a complete suite of integrated media products that connect businesses to the targeted consumers they need to grow their brand successfully and to drive revenue.
Each month, News Tribune, Front Page Digital and its affiliated websites receive 1.4 million page views, according to Google Analytics. Now, with the addition of Front Page Digital, their proven strategy for reaching influential, local consumers will expand businesses in ways owners never thought possible.