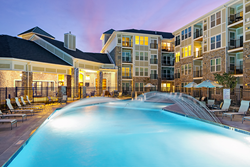 Brivo allows us to do all the things we want to provide a high level of access management for this property. It's easy to manage access for the many different people and groups here. We're quite pleased. Tara Ryan, Property Manager
Bethesda, Maryland (PRWEB) July 02, 2014
Brivo Systems LLC, leader in cloud applications for security management, today announced that The Beacon at Waugh Chapel utilizes Brivo OnAirSM cloud-based access control to oversee residents' safety and security. ResponseTECH, Rockville, MD, is the Brivo dealer and installer for this project.
Located in Gambrills, MD, The Beacon is part of the larger Waugh Chapel Towne Centre community, which features onsite retail including Wegmans, Target, and Petco, as well as dining and entertainment. The Bozzuto Group developed, built, and now manages the 298-apartment home community.
Residences are located in two buildings, with four levels in each building. The Brivo OnAir system manages a total of 21 doors, including the front entrance, stairwell entrances into the building, two breezeway doors, the main office, the 24-hour gym, and the business center, as well as the mailroom, bathrooms, storage rooms, and an employee room.
The property welcomed its first residents in March 2013, and Tara Ryan is the property manager for Bozzuto. "When I arrived in January 2013, Brivo was installed and up and running. It's a simple system to operate, very user friendly."
All users are issued key fobs, and Ryan has users divided into 10 access groups, including housekeepers, lifeguards, regular staff, post office personnel, residents with normal access, residents with added access to storage rooms, fire department personnel, and waste management personnel. Presently, there are over 280 users managed with Brivo OnAir for comprehensive coverage of all people living at the property or needing access to the property.
"The Brivo system allows us to do all the things we want to provide a high level of access management for this property. It's easy to put people onto the system and manage access for the many different people and groups here at The Beacon at Waugh Chapel. We're quite pleased," said Ryan.
For more information on Brivo Systems, contact Brivo toll–free at 1-866-692-7486 or email sales(at)brivo(dot)com.
About Brivo Systems:
Brivo Systems LLC is a SaaS-based security management systems provider for organizations that need to protect and remotely monitor buildings and perimeter entry points. When introduced in 2001, Brivo's Web-hosted physical access control system was a unique solution—after a decade of evolution and innovation, it still is. Brivo's groundbreaking physical access control and video solutions empower organizations by giving administrators real-time device control, including immediate visibility of security events and video in local or remote facilities—anytime, anywhere.
The company's innovative, secure, and open architecture-based products and services, enable businesses to protect people and assets, comply with regulations, and improve business operational efficiency. These scalable systems—whether standalone or appliance-based or cloud-based—offer a solution for every type of business. Brivo's security management products are a market-proven fit for commercial office buildings, warehouses, retail stores, manufacturing plants, and sensitive areas such as server rooms or R&D labs where real-time control and accountability of entry are important.
With headquarters in Bethesda, MD, Brivo is a wholly-owned subsidiary of The Duchossois Group, a privately held holding company headquartered in Elmhurst, Illinois, which also owns other industry leaders such as AMX, The Chamberlain Group, and Milestone AV Technologies. Duchossois also holds strategic interests in Churchill Downs, Inc. and a number of other diversified businesses.
For media queries:
Bruce J. Doneff
Public Relations
bruce.doneff(at)brivo(dot)com
For Brivo Systems, please contact:
JuliAnn Tuleya
Senior Marketing Manager
juliann.tuleya(at)brivo(dot)com
###