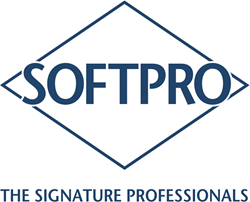 SOFTPRO's esignature technology is a critical component of a bank's digital strategy.
Westlake Village, CA (PRWEB) July 08, 2014
SOFTPRO today announces that one of the world's largest financial institutions has chosen and begun deploying the company's mobile electronic signature technology. This leading bank, headquartered in North America, leveraged SOFTPRO's SignDoc ESignature Software, compatible with iOS, Android and Windows tablets, to implement an engaging and completely electronic in-branch new account opening process.
"SOFTPRO's esignature technology is a critical component of a bank's digital strategy," explains Rodney Vesling, President of SOFTPRO North America. "While our esign solution has helped banks modernize the branch, the same core technology and developer tools can empower banks to implement esignatures cross channels."
The demand for technology that advances the digital bank transformation has increased. According to a Forrester Research, Inc. recent report, Trends 2014: North American Digital Banking: "Digital strategy has risen rapidly up the agenda at most North American banks in the past year. More top-level executives are doubling down on online, smartphone, and tablet initiatives: For example, a majority of eBusiness leaders at North American financial providers reported an increase of 10% or more in spending on mobile in a Forrester survey from 2013."
Esigning has become a culturally accepted process with consumers familiar with and comfortable using the technology. Creating a more retail-like atmosphere contributes to the success of the digital bank. Tablets enhance the interaction between the customer and the representative by enabling the agent to simply present and review the documents on-screen and hand over the tablet when it's time to esign and initial the eforms. There is no need for the agent to pick-up papers at the printer, no additional peripherals cluttering the desk, or large monitor creating a barrier.
About SOFTPRO
Founded in 1983, SOFTPRO is the most experienced signature management company. The company's SignDoc Esignature Software Suite supports handwritten esignatures captured with any device including tablets and smartphones, as well as offers a secure click-to-sign esignature solution. In addition, SignDoc compliments SOFTPRO's check fraud prevention solution, FraudOne, for managing signature references and automated check fraud detection. The products are used in 50 countries, and 12 of the world's 25 largest banks trust SOFTPRO.