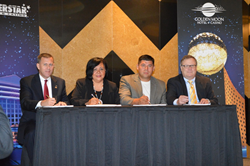 "This deal clearly demonstrates banks and lenders have confidence in the work we are doing here at Pearl River Resort and on the Choctaw Indian Reservation."
Choctaw, MS (PRWEB) July 03, 2014
Tribal Chief and Chairman of Choctaw Resort Development Enterprise Board (CRDE) Chief Phyliss J. Anderson signed official refinancing documents, along with representatives from Trustmark National Bank and Fifth Third Bank on July 2, 2014, in the lobby of the Golden Moon Hotel and Casino.
The new loan package will be used to renovate the Silver Star Hotel and Casino and reopen the Golden Moon Hotel and Casino, among other resort-wide improvements and capital investments. Pearl River Resort is currently celebrating its 20-year anniversary. It was in 1994 that the Tribe first opened its flagship casino, Silver Star Hotel and Casino. Since then the Resort has expanded five times as well as expanded outwardly to include resort amenities such as the Bok Homa Casino, Dancing Rabbit Golf Club, Geyser Falls Water Theme Park, and Clearwater Key Beach Club to name a few. New renovations are well underway and sample rooms and photos will be revealed during the 20th Anniversary Celebration.
"I want to thank the many people involved in securing this low-interest loan. This deal is something every tribal member should have pride in because it is the best rates banks have ever given our Tribe. This deal clearly demonstrates banks and lenders have confidence in the work we are doing here at Pearl River Resort and on the Choctaw Indian Reservation."
The Choctaw Tribal Council adopted a resolution late last year to refinance an existing $70 Million loan at the lowest interest rate ever offered to the Tribe. The resolution also included an action to secure a new low-interest loan up to $75 Million for resort improvements.
The Pearl River Resort encompasses the Silver Star Hotel and Casino, the Golden Moon Entertainment Arena and Hotel, Bok Homa Casino, Dancing Rabbit Golf Course, and Geyser Falls Water Theme Park. The resort offers over 2,400 slot machines, 59 table games, electronic table games, eight poker tables, two hotel towers with 1,074 rooms, a large-scale events center, two nationally ranked 18-hole golf courses, a top-ranked waterpark, as well as a number of food and beverage options. To learn more about the Pearl River Resort and the 20th Anniversary events, visit http://www.pearlriverresort.com or call 1.866.44PEARL.