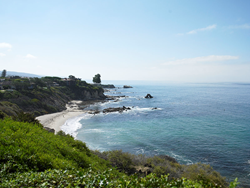 "We are pleased that visitors have the opportunity to have a great time at our beautiful beaches without fear of contamination or pollution." Ruby Gualberto, vp of marketing development, Newport Beach & Company
Newport Beach, CA (PRWEB) July 03, 2014
The National Resource Defense Council (NRDC), named Newport Beach, California one of 35 'superstar' beaches in the United States, earning the only title in the entire state of California.
The NRDC (http://www.nrdc.org) issues an Annual Beach Report Card – Testing the Waters: A Guide to Water Quality at Vacation Beaches revealing the cleanest and contaminated vacation beaches and lakes in America. This year, the report found 35 'superstar' beaches, out of the 3,500 destination water samples collected. Each beach met national water quality benchmarking at 98% of the tie over the past five years.
The report recognizes only two beaches in the entire west coast of America, Newport Beach being one. The specific beach recognized is located on Balboa Peninsula at 38th Street. Balboa Peninsula is a three-mile long stretch with Newport Harbor to one side and white sand beach on the other. With two piers, a boardwalk path and historic "Fun Zone," Balboa Peninsula provides visitors with an entertaining, safe and stunning recreational destination year round.
"A day at the beach should be a fun time in the sun leaving visitors feeling relaxed and rejuvenated," says Ruby Gualberto, vice president of marketing development, Newport Beach & Company, the city's destination marketing organization. "We are pleased that visitors have the opportunity to have a great time at our beautiful beaches without fear of contamination or pollution."
When heading to the shores of Newport Beach, visitors can feel rest assured that the environment their loved ones are enjoying is a clean and safe place. Newport Beach welcomes visitors to experience the pristine and gorgeous beach year round. For more information on Newport Beach, California, go to http://www.VisitNewportBeach.com
# # #
About Newport Beach, California
Nestled among golden stretches of pristine Pacific coastline between Los Angeles and San Diego, Newport Beach epitomizes the casually sophisticated lifestyle of Southern California. This idyllic seaside destination is widely celebrated for its natural beauty and vibrant yachting community alongside stylish accommodations, eclectic coastal cuisine and upscale shopping. Ranked among the "Top 10 Resort Towns in the U.S.," Newport Beach is also distinguished as one of the country's "Top 10 Best Family Beaches." A mild climate and picturesque backdrop minutes from the newly expanded Orange County/John Wayne Airport (SNA) offer year-round appeal. For more information on Newport Beach, please visit http://www.visitnewportbeach.com.