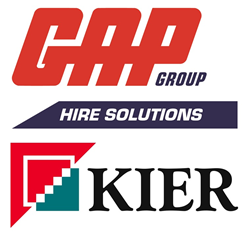 We are confident that the partnership will provide benefits to both of our companies going forward.
(PRWEB UK) 4 July 2014
National Hire Solutions Provider GAP Group (GAP) has recently agreed a deal to purchase over 5,500 items of plant and equipment from Kier Fleet & Passenger Services Ltd (FPS) for whom GAP will remain the preferred supplier for hire. The move will draw on GAP's wealth of industry experience and nationwide support network in order to improve the way plant is supplied to Kier Services and sites nationally, as well as existing Kier FPS customers. GAP will take ownership of the equipment from 1st July 2014 and as part of the deal will be given the opportunity for extended hire arrangements on the contracts involved with the purchase.
Following a successful tender process, GAP was awarded the contract to purchase the fleet which includes small tools, lifting, fusion equipment, survey equipment and plant. The purchased items are to be stored in GAP depots and will support Kier Services contracts all across the UK.
Also included in the deal is the transfer of 21 Kier FPS employees to GAP. These include plant fitters based across the UK in addition to the existing Kier FPS office staff in Wymondham, Norfolk. GAP have also taken over the running of the Bodmin Depot as part of the acquisition.
John Wilkinson, Executive Director responsible for Kier Services commented: "GAP are specialists in the field of equipment hire and we chose them to take on the ownership of our internal plant fleet based on this. The strategic improvement will provide customers of Kier FPS with an enhanced service and quality equipment, while also offering greater control, improved safety and better reporting capabilities.''
Iain Anderson, Joint Managing Director at GAP said: "The process to transfer ownership of the Kier FPS assets started in April when they issued their formal competitive tender. Following an audit of over 2,000 items, GAP is delighted to have won this contract with Kier. We are looking forward to establishing a long-standing relationship with them and are confident that the partnership will provide benefits to both of our companies going forward."