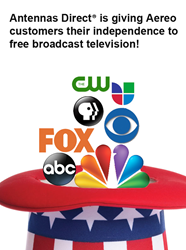 St. Louis, MO (PRWEB) July 02, 2014
Aereo shut their doors this weekend, leaving some angry customers unable to watch broadcast television. Antennas Direct is giving away 1000 antennas to former Aereo subscribers as a solution to their signal loss.
To receive a free antenna, customers must upload their last Aereo billing statement and pay $10 for shipping. They will receive the Antennas Direct ClearStream 2 Complete antenna (50+ mile range), 30 feet of coaxial cable and 20" J-Mount (MSRP $129.99).
"The Aereo Supreme Court case helps illustrate what we have said all along: local digital TV is free, offers more local channels and has a better picture quality than pay TV," said Richard Schneider, president of Antennas Direct. "All that's required is a simple, easy to connect antenna."
Offer is good through July 6th or while supplies last. Be sure to submit an Aereo receipt to receive an antenna.
For more information or to enter, visit the Antennas Direct website http://www.antennasdirect.com/aereo.
About Antennas Direct
Antennas Direct is the leader in antenna technology, reinventing the antenna for the digital era. With a heritage in over-the-air antennas specifically tuned for core DTV frequencies, Antennas Direct has invested major resources into the discovery and implementation of new antenna designs for digital reception. Founded in 2003, the firm is a member of the Inc. 500|5000 Hall of Fame and Future of TV Coalition. Visit antennasdirect.com for more information.