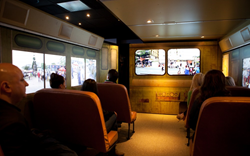 Madison Heights, MI (PRWEB) July 03, 2014
The World Vision Experience "Kisongo Trek" mobile tour was named the Gold winner in the category of Best Vehicle-Based Campaign at the 2014 PRO Awards Gala on June 25. The tour, which takes visitors on an interactive journey through Tanzania, was designed, developed, and operated by MRA experiential tours & equipment.
World Vision is a Christian relief, development, and advocacy organization dedicated to working with children, families, and communities to overcome poverty and injustice. World Vision delivered a true day-in-the-life experience of one child in the Maasai community of Tanzania so people would understand the importance of sponsoring a child, and exactly how they could make an impact. In partnership with MRA, the sights and sounds of the community were brought to life, and visitors were virtually transported from the event location to Tanzania. After witnessing the adversities first-hand, visitors were provided the opportunity to donate directly from the mobile exhibit.
"The World Vision mobile experience, Kisongo Trek, has "wowed" people far beyond our expectations," says Paul Diederich, World Vision's creative director. "We are amazed by how this experience has made one of the largest international humanitarian organizations small and personal to people across the country."
The exhibit utilized various technologies, including RFID-enabled "bus passes" that could be scanned for more information on certain topics, touch screens, and gaming elements. World Vision also used GoPro cameras to capture footage of the journey from the Arusha bus terminal in Tanzania, through the city and jungle of Kisongo, giving guests the impression of motion when on the bus portion of the exhibit.
"It's always significant when you do a project that's bigger than yourself, and that has an end result that has such a direct impact on people," says Tony Amato, owner and president of MRA. "To have so many people working so hard on this tour, and then to have it recognized by our industry and peers is really rewarding."
About MRA:
MRA experiential tours & equipment is an industry leader in mobile exhibit and event marketing. It specializes in custom design, vehicle assembly, and vehicle sales and leasing, as well as tour equipment and logistics-management services for the experiential marketing and exhibiting needs of museums and many Fortune 1000 firms, working either directly or in association with leading agencies and exhibit builders worldwide.
Visit http://www.goMRA.com and http://www.youtube/MRAmobiletours.
High-res images available upon request.