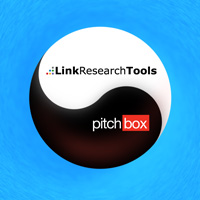 How to Quickly Find Webmaster Contact Information with LinkResearchTools + Pitchbox
Vienna, Austria (PRWEB) July 07, 2014
When a website is hit by a manual or algorithmic Google Penalty, it is imperative to quickly find and remove the site's bad links to regain lost ranking. However, once the webmaster finds the bad links, it is difficult to find the contact information of the linking site. It is also time-consuming to manually email each webmaster to request link removal. SEOs need a simple outreach solution.
Therefore, CEMPER.com is proud to announce the integration of Pitchbox into their LinkResearchTools® suite and Link Detox®. With one click from within LinkResearchTools and Link Detox, users can start Pitchbox to easily contact webmasters to request link removal or to pitch a product, publication or website.
Pitchbox solves several common outreach problems: how to find and reach the right person, how to stay in contact without annoying them, and how to coordinate and track messages. Pitchbox includes email personalization for highly personalized messages (including scripted logic), a contact finder, intuitive charts and accurate reporting, and email templates. It's an essential tool in a post-Penguin world.
CEMPER.COM has thoroughly tested Pitchbox to ensure it seamlessly integrates with its tools and works for link removal and link building. They performed outreaches to webmasters and journalists to remove bad links and build good links. Christoph C. Cemper presents a quick walkthrough of how to use Pitchbox in a Link Detox link removal campaign.
Pitchbox is available in the the LRT Superhero, LRT Enterprise, and Link Detox Consultant plans and up.
Company Information profile
Link Research Tools is a big data platform that helps advertising agencies and brands rank better in Google. Understand and outperform your competition.
Link Detox is a big data platform for managing and mitigating risks from SEO and Links, in particular Google Penguin updates.
CEMPER.COM currently offers four different Link Detox Pro plans for its Link Detox customers and four different Link Research Tool Plans for its full-suite customers.
CEMPER.COM is a software company specializing in SaaS software to help with Search Engine Optimization, Link Building, Google Penalty Recovery, Link Risk Management, and Competitive Analysis. It also offers a full certification program for Certified LRT Professionals and Agencies. Founded in 2003, the company originally provided SEO consulting and Link Building before switching to the software business and is based in Vienna, Austria, Europe.
CEMPER.COM serves thousands of international brands and agencies from small to large in 214 countries. Some major markets CEMPER.COM is dominant with its offerings include the US, UK, Australia and European countries.
Contact:
CEMPER.COM, Christoph C. Cemper
tel: US: +1 (866) 347-3660
tel intl: +43 720 116440
feedback(at)linkresearchtools(dot)com
http://www.linkresearchtools.com, http://www.linkdetox.com, http://www.cemper.com