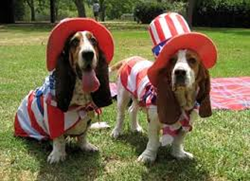 This US holiday is no celebration for dogs; the sound of fireworks causes many dogs to panic and run, resulting in many lost dogs every year.
Jeffersonville, Ind. (PRWEB) July 02, 2014
The Fourth of July means fun and festivities abound! Independence Day is often celebrated with an abundance of barbeque, fireworks, and a host of friends and family. This US holiday is no celebration for dogs though; the sound of fireworks causes many dogs to panic and run, resulting in many lost dogs every year.
Here are some tips to keep your dog or cat safe and sound among all the festivities:
1. Keep your pets INSIDE! This is the safest way to help your pet avoid the stresses of the festivities. Keep the blinds closed, and put on a radio. This is comforting and distracting from the ruckus that may be going on outside.
2. Use pet-safe insect repellant on your pets. Sunscreen or bug spray that isn't labeled specifically for pet use may irritate your pet's skin. Ingestion of it can cause vomiting and diarrhea.
3. Avoid using citronella candles. Inhalation of citronella can cause severe respiratory problems for your pet. It can even result in pneumonia.
4. Glow sticks and glow jewelry: keep it away from your pet! Your pet could swallow the plastic, causing intestinal problems.
5. Keep that red solo cup out of your pet's reach and do not leave alcohol unattended: alcoholic beverages may be a part of your good time, but they can be fatal for our pets.
6. NEVER use fireworks around your pet. Like we said, it scares your pet and can cause him or her to run away, getting lost or injured in the process.
7. Going to a fireworks display? Leave your pet at home! As mentioned, the excitement is a little too much for your cat or dog. This anxiety is only increased when large crowds, music, new smells, and fireworks abound.
8. Continue your pet's normal diet: while we may indulge in that dessert, feeding Fido table scraps can cause him some serious digestion problems.
9. Keep lighters, lighter fluid, and matches out of your pet's reach. These contain harmful chemical substances that can cause your pet difficulty breathing, skin irritation, gastro-intestinal upset, respiratory problems, and even kidney disease.
10. Get your pet micro-chipped! While using the tips above should prevent your pet from running away or fleeing in fright, getting your pet micro-chipped is a safe bet just in case something happens. Your pet will be safer, and more readily found.
Independence is a time to celebrate; it's an all-American tradition! Just keep in mind that your pet celebrates just a tad differently than you do. Keep everyone in the family happy this 4th of July weekend—including those tail-wagging ones—by adhering to these safety tips!
About PetFirst
PetFirst is the fastest growing pet insurer in North America offering easy-to-understand lifelong coverage for dogs and cats. PetFirst's comprehensive coverage is unique in the industry providing simplified policies with coverage for hereditary, chronic and breed-specific conditions with no per-diagnosis limits. PetFirst offers pet insurance in all 50 states and the District of Columbia through animal welfare agencies, retailers, employers as well as other partners. PetFirst polices are underwritten by American Alternative Insurance Corporation (Munich Re) which is rated by A.M. Best as A+. Additional services are underwritten by Lloyd's. For more information about PetFirst pet insurance, visit http://www.petfirst.com or call 877-894-7387.