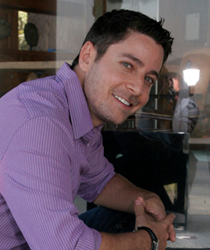 "I'm honored to be featured on 'Secret Lives of the Super Rich.' Through the show, I can share my passion for unique real estate and give viewers a rare glimpse into the fascinating world of luxurious living that not many get to experience."
Beverly Hills, CA (PRWEB) July 03, 2014
Aaron Kirman, president of Aaroe Estates, the luxury property division of John Aaroe Group, has been taking viewers on the ultimate inside tour through the Los Angeles homes of the super famous and extremely wealthy on Season 3 of CNBC's hit "Secret Lives of the Super Rich". Mr. Kirman's latest episode airs Saturday, July 5, at 8pm ET/PT.
Well-known for his A-list clients including celebrities, billionaires and royalty as well as his expertise in architectural estates, Mr. Kirman says, "I'm honored to be featured on 'Secret Lives of the Super Rich'. Through the show, I can share my passion for unique real estate and give viewers a rare glimpse into the fascinating world of luxurious living that not many get to experience."
Saturday's episode reveals one of Bel-Air's most coveted locations—777 Sarbonne Rd. This property sits on one of the best scenic sites in Los Angeles with stunning 280-degree views of the city below. The home is nearly 9,000 square feet on over an acre of land. In this episode, Kirman brings one of LA's top celebrity dermatologists, Dr. Alex Khadavi, an enticing $23 million dollar offer. But Dr. Khadavi has a multi-million dollar decision to make. With Kirman's guidance, Dr. Khadavi explores whether to sell the estate to make a $7 million dollar profit or tear down the property and develop it for a potential profit of $43 million.
The episode continues with the largest undeveloped parcel of real estate, set on over 258 acres representing six percent of the luxury community of Bel-Air. Who better to offer his vision of the many possibilities to develop this property than one of the country's most successful real estate developers, Richard Weintraub. Kirman literally takes off – by helicopter - on an exhilarating tour of the $125 million estate and explores its endless potential with Weintraub by his side.
Kirman will also take viewers inside the former residence of two-time Emmy Award winner and Golden Globe nominated "Will & Grace" and "Parks and Recreation" star Megan Mullally. Located in the iconic "Bird Streets" of the Hollywood Hills, the home features spectacular contemporary architectural design with epic 270-degree views of Los Angeles and dining rooms with walls of glass to showcase the city below.
John Aaroe, founder of John Aaroe Group, said, "It has been a great experience having one of our top agents on the show. While we are extremely discreet about our high-profile clientele, part of the fun of this show is being able to bring everyone on the journey. Viewers are given access to some of the most exclusive homes in Los Angeles."
Reported by CNBC's Robert Frank, "Secret Lives of the Super Rich" highlights an exclusive world filled with enormous fortunes, unimaginable extravagance, and a cast of #SuperRich characters with one thing in common—a voracious appetite for the best of the best (http://www.SuperRich.CNBC.com).
About Aaron Kirman
Mr. Kirman, recently ranked as the #12 real estate agent in the nation by Real Trends, is renowned for his representation of some of the country's most significant estate and architectural properties, including residences by Koenig, Shindler, Lautner, and the only Neimeyer in North America. Mr. Kirman has represented such unique southern California estates as Frank Lloyd Wright's Ennis House, Richard Neutra's Kaufmann Residence, and Paul Williams' Lions Gate. During his career, Mr. Kirman has sold more than $1 billion of residential real estate to a group of select clients including A-list celebrities, heads of industry, foreign investors and royalty. While he specializes in exclusive properties from Beverly Hills to Malibu, he has represented buyers and sellers worldwide.
About John Aaroe Group
John Aaroe Group is a leading real estate brokerage specializing in high-end property in the greater Los Angeles area. The company has represented some of the region's most prestigious properties, and offers in-depth knowledge through its offices in Beverly Hills, Brentwood, the Sunset Strip, Sherman Oaks, Toluca Lake, Pasadena, and downtown Los Angeles. Founded by John Aaroe in 2009, John Aaroe Group is known for its agents' dedication to impeccable service, as well as for Mr. Aaroe's three decades of experience representing buyers and sellers of select residences. Mr. Aaroe has been named "One of the Most Powerful People in Residential Real Estate in 2013" by the Swanepoel Power 200. For more information about the company, visit http://www.aaroe.com.