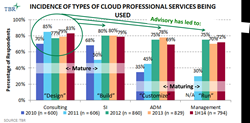 Hampton, NH (PRWEB) July 10, 2014
Technology Business Research Inc.'s (TBR) Spring 2014 Cloud Professional Services Customer Research report shows demand for cloud professional services holding strong, with 82% of enterprise respondents adopting cloud professional services in 2014. Customers will continue to demand cloud professional services support; however, the level of investment will fluctuate with evolving economic and business conditions, posing greater challenges to vendors with specific revenue targets. The value of TBR's cloud professional services research is its analysis of adoption trends and customer perception, and gap analysis between customer needs and vendor capabilities — all of which enables providers to tailor offerings to market demand. "Significant opportunity lies across service lines, but particularly for advisory and managed services as organizations seek cloud-driven business outcomes and hybrid integration," said TBR Cloud Analyst, Cassandra Mooshian.
TBR surveyed 794 end users of cloud professional services at enterprises across North America, Europe and Asia to provide insight to customer adoption cycles, current and expected buying behaviors over the next 12 months and the vendor landscape. Enterprise spending and future expectations were bloated and optimistic in TBR's 2013 iteration of the study, while thus far in 2014, budgets have contracted due to global pressures and the overall maturation of enterprise clouds. Late adopters caught up in 2013, while in 2014 companies are building on cloud components. "While public, private and hybrid cloud services drive significant investment in cloud, cloud professional services remain the most adopted cloud service, due to the complexity of environments requiring third-party involvement in the design, implementation and management of customer clouds," Mooshian said. Pent-up demand in 2014 from lower spending will result in increased cloud professional services spending in 2015, when end users will be better educated and have more realistic expectations, more accurately forecasting future spend and vendor opportunity.
TBR research indicates security as a top concern of cloud professional services adoption while hybrid integration is a top driver of adoption. "Because security continues to top the list of concerns related to adoption, managed and orchestration services are becoming increasingly popular as customers realize systems integrators have the expertise to navigate barriers and alleviate concerns regarding cloud adoption," Mooshian said. She asserts that vendors with security expertise and the ability to react quickly will succeed in the space, particularly as customers integrate more hybrid capabilities and seek secure management of their cloud environments.
TBR's Cloud Professional Services Customer Research report helps vendors build strategic go-to-market plans by offering a critical view of the opportunities in cloud professional services, examining the landscape through a business-centric lens and highlighting customer buying behavior. The report also identifies leaders and laggards and opportunities for buyers and providers in the cloud professional services market.
For more information, download TBR's special report ITO versus cloud services: Battle of the business models, and join us for our upcoming cloud professional services webinar, "The maturing cloud professional services market and vendor opportunity" on Wednesday, July 30, 2014, at 1:00 p.m. EDT. You can register for the webinar at https://tbrevents.webex.com/.
Additional cloud customer research includes TBR's Private Cloud Customer Research and Hybrid Cloud Customer Research reports.
For more information about the Cloud Professional Services Customer Research report or to purchase the report, please contact Alison Crawford, senior marketing manager, at 603.758.1838 or alison.crawford(at)tbri(dot)com, or James McIlroy, vice president of sales, at 603.758.1813 or mcilroy(at)tbri(dot)com.
ABOUT TBR
Technology Business Research, Inc. is a leading independent technology market research and consulting firm specializing in the business and financial analyses of hardware, software, professional services, telecom and enterprise network vendors, and operators. Serving a global clientele, TBR provides timely and accurate market research and business intelligence in a format that is uniquely tailored to clients' needs. TBR analysts are available to further address client-specific issues or information needs on an inquiry or proprietary consulting basis.
TBR has been empowering corporate decision makers since 1996. For more information, please visit http://www.tbri.com.