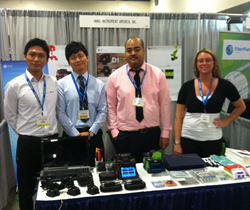 We continue to make great strides in educating customers on the value of INNO Instrument fusion splicers. These splicers are comparable in quality to more expensive splicers from Sumitomo, AFL and Fitel
Fort Lauderdale, FL (PRWEB) July 09, 2014
More than 150 exhibitors provided various products and learning opportunities in the areas of FTTH consumer applications, content and in-home networking. FORC joined INNO Instrument America to demonstrate the INNO Instrument line of Digital Core Alignment fusion splicers & and fiber optic cleavers. Particularly popular was the IFS-15H FTTx Fusion Splicer. The 15H is compatible with both fiber and cable splicing and combines the functions of both splicing fiber sizes that are popular in FTTH applications: 250µm fiber, 900µm fiber, flat cable, fiber jumper and splicer-on connectors.
"We continue to make great strides in educating customers on the value of INNO Instrument fusion splicers. These splicers are comparable in quality to more expensive splicers from Sumitomo, AFL and Fitel, yet are budget friendly and have a standard 3-year warranty. They're a great value for those working in the FTTH," stated George Kyrias, President of FiberOptic Resale Corp.
About FiberOptic Resale Corporation
FiberOptic Resale Corp (FORC) is a dedicated value added stocking distributor and service center servicing the fiber optic industry. We bring high-quality, cost-efficient products to the CATV, Contractor, Enterprise, and Telecommunications marketplace. These products are centered on the Outside Plant (OSP), Central Office (CO), and head end areas of our customer's environments.
With a wide variety of services including in-house technicians we repair, clean & calibrate fusion splicer's, OTDRs and cleavers and more. FORC is the largest INNO Instrument authorized fusion splicer service center. Our clients benefit from our "In the field" philosophy with on-site demos and training sessions to help technicians keep up to date on the latest products. To request a product demo, please call 877-287-7535.