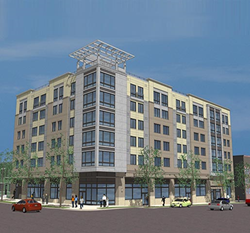 Columbia, MD (PRWEB) July 07, 2014
32 Thirty-Two Apartments, a green community in the Columbia Heights neighborhood of Washington, D.C. has been awarded HAND's 2014 award for the Best Large Affordable Housing Project. 32 Thirty-Two is a community whose sustainable design, central location, and dedication to providing affordable housing for families with a variety of incomes has earned them multiple awards in affordable housing and sustainable efforts.
The Housing Association for Nonprofit Developers (HAND) is a nonprofit launched in 1991 to provide training for housing developers in sustainable communities. As part of its mission to increase affordable housing in the Washington, D.C. metropolitan area, HAND has given awards in a variety of areas to recognize the excellence of local communities for seventeen years.
32 Thirty-Two continues to show their dedication to innovating new combinations of sustainable living and affordable housing. At 32 Thirty-Two, each apartment comes equipped with designer kitchens featuring Energy Star appliances and light fixtures, high efficiency windows and air conditioning, and green materials. 32 Thirty-Two's location in Northwest DC also provides its green rooftop terrace with city views. 32 Thirty-Two is one of 79 apartment communities managed by Equity Management.
About EQUITY Management
EQUITY is a leading property management firm, specializing in affordable housing in the mid-Atlantic area with over 10,000 units under management in 6 states. Equity was founded in 2008 and is registered one of the largest tax credit management organization in the United States. The firm has experienced rapid growth and has a wide range of management services to help investors meet their needs. Our goal is to create opportunity while managing with integrity. We maintain a strong culture of solid, professional management and long-term value creation.
Find Equity Management at:
http://www.equitymgmt.com/
32 Thirty-Two:
http://www.32thirtytwoapartments.com/