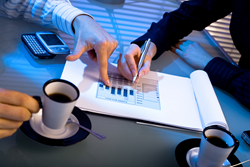 Finding the right business consultant may be the most difficult part for the owner or management. The consultant should have a passion for their work, a drive for excellence, and an eye for organization and detail and that is what Lisa Mullins' quality.
Washington DC (PRWEB) July 08, 2014
Lisa J. Mullins announced her new website to better connect with their customers and to show more about her services online. Customers can now visit her website at http://www.lisajmullins.com/ and view her services online.
What is a business consultant? Business consultants provide management consulting to help organizations improve performance and efficiency. These professionals analyze businesses and create solutions while also helping companies meet their goals, and this is what Lisa J. Mullins specialize in.
Management consulting, the practice of helping organizations to improve their performance, operates primarily through the analysis of existing organizational problems and the development of plans for improvement. Organizations may draw upon the services of management consultants for a number of reasons, including gaining external (and presumably objective) advice and access to the consultants' specialized expertise.
As a result of their exposure to and relationships with numerous organizations, consulting firms are also said to be aware of industry "best practices", although the specific nature of situations under consideration may limit the transferability of such practices from one organization to another.
Consultancies may also provide organizational change management assistance, development of coaching skills, process analysis, technology implementation, strategy development, or operational improvement services. Management consultants often bring their own proprietary methodologies or frameworks to guide the identification of problems and to serve as the basis for recommendations for more effective or efficient ways of performing work tasks.
Lisa J. Mullins is one of Maryland's top business consultants and is the one to turn to when business owners need help or perspective on their chosen path or need a catalyst for change in their companies.
For business consulting in the Washington DC area, call Lisa J. Mullins now at phone number (570) 344-7656 for a free performance review. http://www.lisajmullins.com/contact-us/