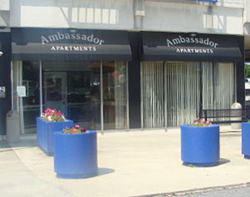 Columbia, MD (PRWEB) July 04, 2014
This year, The Ambassador Apartments were awarded Montgomery County's Outstanding Achievement in Recycling award for businesses whose recycling efforts excelled in 2014. Waste Reduction and Recycling Section's initiative Smart Organizations Reduce and Recycle Tons grant these awards each year to recognize the waste reduction efforts of businesses and individuals. Montgomery County noted that The Ambassador's management team has achieved excellence in recycling by educating the tenants in recycling procedures and by successfully monitoring the recycling and waste receptacles to ensure efficiency.
The Ambassador Apartments offer affordable living for low to moderate income renters. Located off of Wheaton Plaza, The Ambassador also offers its residents convenient access to shopping, the Metro, and nearby schools. The Ambassador is one of the communities managed by Equity Management.
About EQUITY Management
EQUITY is a leading property management firm, specializing in affordable housing in the mid-Atlantic area with over 10,000 units under management in 6 states. Equity was founded in 2008 and is registered one of the largest tax credit management organization in the United States. The firm has experienced rapid growth and has a wide range of management services to help investors meet their needs. Our goal is to create opportunity while managing with integrity. We maintain a strong culture of solid, professional management and long-term value creation.
Find Equity Management at:
http://www.equitymgmt.com/