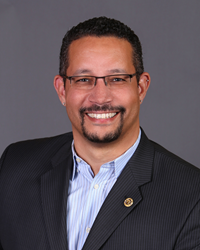 I am very excited to lead this wonderful group of volunteer business leaders in our community, we'll focus on our $15,000 annual charity contributions & local community projects.
Pismo Beach, CA (PRWEB) July 03, 2014
The Pismo Beach\Five Cities Rotary Club announces that Michael Boyer ascended to the Presidency of the Rotary Club of Pismo Beach\Five Cities.
"I am very excited to lead this wonderful group of volunteer business leaders in our community," says Michael Boyer, President of the Pismo Beach Rotary Club, "we'll focus on our $15,000 annual charity contributions, International service projects as well as our 20+ community improvement programs."
Michael is a native of Wasilla, AK, and studied Finance and Speech Communications at University of Oregon in Eugene, OR.
Michael is the CEO AdSmart, Inc., a mobile advertising software platform for franchise companies located in Grover Beach, CA. Prior to that Michael was COO of ElementsLocal, Inc. which was acquired by Bridgeline Digital, Inc. in August of 2013. Michael has built software solutions for many franchise companies: UPS Stores, Sport Clips, Inc., Paul Davis, Jiffy Lube, Maaco, Glass Doctor, Floor Coverings International, Weed Man, Home Helpers to name a few … He has been working in the technology and marketing product development for 20 years focusing on growth and solution creation. Before Bridgeline, Inc. Michael was hired to drive the turnaround of Web Associates, which was later acquired by Rosetta, as the VP Operations. the successful turnaround, from losing $500k to $5 million in profit, and developing software solutions for Visa International, Oakley, Luxottica, APPLE, HP, Quiksilver and many others
In 2006 and 2007 both the Economic Vitality Corporation of San Luis Obispo County and the Pacific Coast Business Times awarded Michael "Top 20 Under 40" for his professional excellence and profound commitment to the community.
Michael lives in Arroyo Grande, California with his wife and son and she enjoys running on the beach, volunteering, skiing and the occasional scuba diving. He serves on the board of the Exploration Station, and is involved with many other community non-profit organizations.
About the Rotary Club of Pismo Beach-Five Cites
The Rotary Club of Pismo Beach-Five Cities is one of three Rotary Clubs in South San Luis Obispo County. We have 55 business leaders who are committed to improving life in our community and around the world. We have 20+ projects that we sponsor and organize every year for the benefit of our community, including Youth Soccer tournaments, Christmas party for under privileged families, ethics education program and many others. If you are interested in help your community and would like to volunteer, please contact our Membership Chairman: Charla Anderson (805) 710-0939 - sere[email protected]
Rotary, a global network of community volunteers, is one of the largest and most influential international humanitarian service organizations worldwide. Founded in Chicago on February 23, 1905, today over 1.2 million members belong to 33,000 Rotary clubs in more than 200 countries and geographical areas.
Rotary members, as volunteers, conduct projects to address today's humanitarian challenges, including illiteracy, disease, hunger, poverty, lack of clean water, and environmental concerns while encouraging high standards in all vocations. Rotary members strive to build goodwill and peace, and provide humanitarian service in their communities and throughout the world.