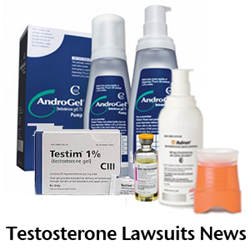 If your believe you have suffered cardiovascular problems due to Androgel, Testim, Androderm or other Testosterone Treatment Drugs Call Wright & Schulte today for a Free Legal Evaluation at 1-800-399-0795 or by visiting www.yourlegalhelp.com
Columbus, OH (PRWEB) July 07, 2014
Testosterone treatment lawsuits continue to mount as the number of filing has double in the last month. Wright & Schulte LLC notes that as of June 16th, there are 98 testosterone lawsuits filed against the makers of Androgel, Androderm, Testim and Depo pending under MDL 2545 in the U.S. District Court of Illinois. All of the testosterone therapy complaints allege taking one or more testosterone replacement drugs caused them to experience strokes, heart attacks, blood clots, and other cardiac and blood clot issues. The attorneys are concerned with the rate the number of Testosterone complaints is growing since there were 45 Testosterone lawsuits pending on June 6th when a panel of federal judges issued an order to transfer the low testosterone claims to the U.S. District Court, Northern District of Illinois. That is more than double in about 10 days. (In re: Testosterone Replacement Therapy Product Liability Litigation - MDL No. 2545)
[jpml.uscourts.gov/sites/jpml/files/MDL-2545-
Initial_Transfer-05-14.pdf]
[jpml.uscourts.gov/sites/jpml/files/
Pending_MDL_Dockets_By_District-June-16-2014.pdf]
With the growing number of testosterone treatment lawsuits, the firm is actively investigating the side-effects of testosterone treatment drugs and continues to offer free legal evaluations to men or families of men who believe they have suffered cardiac events due to testosterone therapy drugs such as AndroGel, Androderm, and Testim. To speak with an experienced attorney regarding your legal option contact Wright & Schulte LLC by calling 1-800-399-0795 or visit yourlegalhelp.com. You can also follow us on Facebook and Like us on Twitter for all the news on testosterone treatment products and other harmful drugs.
According to court records, testosterone treatment lawsuit filings began in January after the U.S. Food & Drug Administration (FDA) announced it was launching an investigation into the safety of prescription testosterone products taken by men who suffer from hypogonadism (low testosterone). The FDA's re-evaluation of low testosterone medication was triggered by a review of two observational studies. The first study, published in the PLOS One Journal on January 29, 2014, found that men over 65 and younger men with a pre-existing heart disease who used prescribed testosterone drugs were at a greater risk of having a heart attack within the first 90 days after taking the medication for the first time. The second study, published in the November 2013 Journal of the American Medical Association, found that older men who had underlying cardiovascular disease and took low testosterone treatment had a 30 percent increased risk of having a stroke, heart attack or death compared to men who did not take the medication.
[fda.gov/Drugs/DrugSafety/ucm383904.htm, January 31, 2014]
[plosone.org/article/info%3Adoi%2F10.1371%2Fjournal.pone.0085805, January 29, 2014]
[jama.jamanetwork.com/article.aspx?articleid=1764051, November 6, 2013]
Two weeks after the judicial panel consolidated all testosterone lawsuits pending across the country, the FDA ordered testosterone manufacturers to include a general warning about the risk of venous blood clots on their drug labels. The federal regulator acknowledged that drug labels already include the risk of blood clots in veins as a consequence of polycythemia, an abnormal increase in the number of red blood cells that sometimes occurs with testosterone treatment. According to the FDA, post-market reports have shown that blood clots are occurring that are unrelated to polycythemia. Because of this development, the federal agency said in its June 19th safety alert that it wants the labeling on all FDA-approved testosterone products to be consistent in including a general warning about the risk of venous blood clots.
[fda.gov/safety/medwatch/safetyinformation/safetyalertsforhumanmedicalproducts/ucm402054.htm, June 20, 2014]
[fda.gov/Drugs/DrugSafety/ucm401746.htm, June 19, 2014]
In the wake of the FDA's announcement on the possible cardiac risks associated with low testosterone treatment drugs, doctors are complaining that research on the safety of testosterone replacement therapy is inconclusive and leaves them wondering how and whether to treat hypogonadism, according to a Los Angeles Times report. An endocrinologist quoted in the article suggests that researchers launch large, randomized clinical trials in which some men are given low testosterone medication and others are given a placebo and follow both groups for several years. The problem with existing research, according to the endocrinologist, is that it infers but does not prove that there are risks associated with testosterone medication.
[latimes.com/science/sciencenow/la-sci-sn-testosterone-supplement-debate-20140428-story.html, April 28, 2014]
Wright & Schulte LLC offers free legal consultations to men who experienced heart attack, stroke, blood clots and other side effects believed to be associated with the use of testosterone replacement therapy drugs such as AndroGel, Androderm, Testim and Depo Testosterone. To find out whether you are eligible to file your own low testosterone lawsuit, please contact the attorneys at Wright & Schulte LLC by calling 1800-399-0795 or visit yourlegalhelp.com.
Contact:
Wright & Schulte LLC
812 East National Road
Vandalia, Ohio 45377
1-800-399-0795
http://www.yourlegalhelp.com
Like us on Facebook
Follow us on Twitter
Join us on Google+