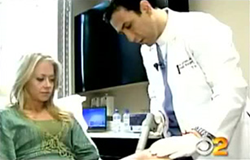 Los Angeles, CA (PRWEB) July 02, 2014
A May 9, 2014 article in Harper's Bazaar titled "Can Cellulite Be Erased?" explains the despised skin dimpling and the latest medical advances available to treat it. Reportedly 90 percent of all women suffer from cellulite, with dimpling on the thighs, buttocks, and hips being the most common complaint. Nearly all women will deal with cellulite at some point and even the fittest, most well-toned athletes aren't immune. (See: goo.gl/ava2fK)
"The average woman is genetically predisposed to have a little dimpling here and there," says Dr. Simon Ourian, Medical Director of Epione Beverly Hills. "When vertical bands of connective tissue break up sub-dermal fat pockets, the surface area of the skin creates the unwanted dappled effect that so many women fear. And this only becomes worse with the aging process. The older a woman gets, the looser her skin becomes, and the more pronounced these cellulite pockets become."
According to the article, until recently even the most popular forms of cellulite treatment could only provide temporary or barely noticeable results. Today, there are spas that offer full treatment programs designed to target cellulite on every level. From massages to body wraps to intensive diets and supplements to laser and vacuum treatments, these programs aim to tackle the dreaded dimples from every angle. Some intensive laser treatments are said to address the problem from the root. These lasers are designed to melt away unsightly fat pockets while simultaneously breaking through the connective tissue that causes cellulite dimples.
"Dermal filler injections don't actually treat cellulite," says Dr. Ourian, "they just help conceal the issue temporarily. And, as noted in the article, this is viable option for women with only one or two tiny spots of cellulite. It's not a viable cellulite solution for most women."
Dr. Ourian has been a pioneer in laser technology and non-invasive aesthetic procedures including Restylane, Juvéderm, Radiesse, Sculptra and CoolSculpting. These treatments are used for the correction or reversal of a variety of conditions such as acne, acne scars, skin discoloration, wrinkles, stretch marks, varicose veins, cellulite, and others. More information about cellulite can be found on Epione's website.