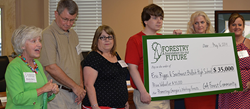 In looking at both student's artwork, you can clearly see that they have grasped the story of Georgia's working forests and the benefits they provide.
Forsyth, Georgia (PRWEB) July 03, 2014
The Georgia Forestry Foundation (GFF), members of the forestry community in Georgia, education professionals, and elected officials recently recognized rising 8th-grade student, Caitlin Geiger, of Tallulah Falls School in Tallulah Falls, GA, and 10th-grade student, Eric Riggs, of Southeast Bulloch High School in Brooklet, GA for winning their respective levels of competition in the 5th-12th grade "Forestry: A Foundation for our Future Artwork and Slogan" Contest.
Both students and schools were awarded a prize package valued at $35,000, which includes a $15,000 cash award to the school, a $2,500 cash award and forestry camp scholarship to the student, professional development opportunities for teachers, materials featuring the winning artwork, and a field trip for all students in the winning grade level.
"In looking at both student's artwork, you can clearly see that they have grasped the story of Georgia's working forests and the benefits they provide," Jody Strickland, 2014 Chair of the Georgia Forestry Foundation, said. "Working forests are Georgia's success story, and we are delighted to honor these students for helping us tell that story with their beautiful artwork and slogan."
Both winning students, their parents, and two staff members from each school will be invited (expenses paid) to attend an award ceremony on Sunday, July 20, at the Georgia Forestry Association's Annual Conference in Hilton Head Island, SC.
The contest and education initiative was launched on Arbor Day this year to cultivate greater awareness of the economic, environmental, and social benefits of Georgia's working forests. The contest invited all 5th-12th-grade students in Georgia to submit an artwork with a slogan that expressed the value of forests and what they mean to the student by answering one question: How do Georgia's working forests make life better?
Winning the contest was no small feat. In the 5th through 8th grade level of competition, there were a total of 118 entries received from 75 counties across the state, with 3,728 students and 230 teachers who participated. In 9th through 12th, there were 56 entries from 50 counties across Georgia, with 1,040 students and 86 teachers who participated.
"The level of participation in this inaugural contest far exceeded our expectations for a new initiative," Project Coordinator Valerie Noles said. "It is a great start to our efforts with this education effort."
The next phase of the education initiative will include an effort to use both artworks to promote the value and importance of Georgia's working forests throughout the state. Promotions will include banners on the side of chip trailers and other industry vehicles, marketing materials, and an increased presence at a variety of events and functions throughout the state – including the Georgia National Fair in October.
For more information on the contest, including pictures of the contest winners and the honorable mentions for each category, visit http://www.forestry4Rfuture.org.
For more information on forestry and environmental education in Georgia, contact Project Coordinator Valerie Noles at valerie(at)gfagrow(dot)org.