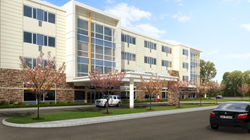 "When you're in your neighborhood, you're at home," said Batsheva Katz, VP, Windsor Healthcare. "It's your whole community, and that creates a sense of security and belonging for many residents."
(PRWEB) July 07, 2014
The new Venetian Care & Rehabilitation Center, set to open on the South Amboy waterfront in August, will provide a progressive approach to care by welcoming residents to nine 'neighborhoods' within the center, each with a team of dedicated care partners trained to tailor daily life and activities to individual preferences.
"By establishing physical neighborhoods in the Venetian, we have literally built the building from the ground up to provide person-directed care to residents in a true home - where they can continue to live comfortably and grow," said Hyman Jacobs, CEO of Windsor Healthcare Communities, which owns the new Venetian and nine other nursing homes across New Jersey. The new home is scheduled to open in August.
Mr. Jacobs described the Venetian as a model for the future of long-term care. In a departure from the hospital-like setting that comes to mind at the mention of the word "nursing home," the Venetian has no stark, long corridors. There are three neighborhoods on each floor, each with its own living area, pantry and spa for showering. The neighborhoods allow residents more personalized spaces and more choice throughout the day.
For example, the spa in each neighborhood provides more privacy than a communal shower, with private areas to undress and bathe. There are spaces where residents can keep their toiletries, and vanities for putting on makeup. Also in keeping with the person-focused care, residents will be able to choose when to bathe rather than keeping to a schedule dictated by the staff. The same is true for waking, bedtime and mealtimes.
Food choices and access to food are important to quality of life for nursing home residents, so in addition to community dining rooms, each neighborhood in the Venetian has a full kitchen with an oven, stove, microwave and refrigerator. Residents will be able to help themselves to a snack in between meals and help cook a meal on occasion.
"Each neighborhood is built like a home. It's a setting that enables our care partners to provide truly personalized care," said Batsheva Katz, vice president of Windsor Healthcare Communities. "The neighborhoods allow residents and care partners to have the same quality of interactions that friends and neighbors do at home," she added.
Rather than a top-down, task-oriented focus with a one-size-fits-all schedule, the staff offers care based on relationships, which is more suitable for providing individualized needs. Neighborhoods are divided into smaller households, where each household has its own consistent team of care partners. Households are self-led by residents and care partners, emphasizing identity and autonomy.
"When you're in your neighborhood, you're at home. It's where you live, where you do things, where your friends are. You may leave to go outside for a barbecue, but when you come back, you're not just returning to your room. It's your whole community, and that creates a sense of security and belonging for many residents," Ms. Katz said.
"When someone asks me where I live, I say the name of my community," related Joshua Jacobs, Vice President at Windsor. "We want our residents to feel that same sense of community, belonging, and pride in their neighborhood at Venetian. Instead of living in Room 210, for example, our residents will live at an address, like 210 Twig Street, in the Willow neighborhood."
Each floor of the newly-constructed, 93,000 square foot home has a different theme. The first floor theme is trees, symbolizing continued growth during one's elder years. The neighborhoods on that floor are Willow, Fern and Oak, each with its own color scheme. Distinctive artwork gives each neighborhood its own identity while providing visual cues to help residents with dementia stay oriented when changing floors or moving through different neighborhoods.
The Venetian also offers residents many other community spaces outside the neighborhoods, including a gift shop, a non-denominational chapel, multiple dining rooms, recreational areas, libraries and outdoor gardens. Outside the home, residents can take advantage of the Venetian's location, next to the South Amboy YMCA and within walking distance of downtown, the train station and two parks on the waterfront promenade, with scenic views and entertainment opportunities.
About Windsor Healthcare:
A family-owned company, Windsor Healthcare Communities provides clinically sophisticated sub-acute care, as well as comprehensive nursing care, in ten homes located throughout New Jersey, where we are leading the state in our adoption of a more enlightened philosophy of "life after adulthood." At Windsor Healthcare Communities, we honor people first, value relationships, and treat our Elders and employee care partners like family. This family commitment is our measure for outstanding, quality care—in our communities, we strive to do things as we would do them at home.
Windsor Healthcare Communities include Abingdon Care & Rehabilitation Center in Green Brook, Ashbrook in Scotch Plains, Briarwood in South Amboy, Buckingham at Norwood, Canterbury in Cedar Grove, Cornell Hall in Union, Llanfair House in Wayne, Windsor Gardens in East Orange, Merwick in Plainsboro and the Venetian in South Amboy.
Please visit http://www.windsorhealthcare.org for more information.