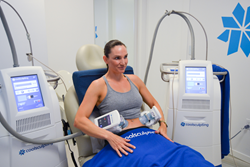 Most busy NYC professionals don't have the time to allot for 8 hours during their workweek. Now my patient can achieve great results in half the time.
New York, NY (PRWEB) July 03, 2014
Russak Dermatology Clinic is one of the first practices to introduce DualSculpting, the process of having two sessions conducted simultaneously. CoolSculpting, an innovative technology that freezes away unwanted fat, is now available at Russak Dermatology Clinic, making it one of the first medical practices in the Northeast to offer this breakthrough non-invasive fat reduction. By performing DualSculpting treatments you can provide shorter treatment times for each patient and a more flexible treatment schedule.
"There has been such an increase in demand for this non-invasive fat reduction procedure, we need to keep up with demand. We had our eye on purchasing a second machine for some time, for our patient's comfort. Our patient's can now do their treatment in half the time. Some of my patients do upwards of 8 sessions, which is a minimum of 8 hours. Most busy NYC professionals don't have the time to allot for 8 hours during their workweek. Now my patient can achieve great results in half the time," says Dr. Russak.
Cleared by the U.S. Food and Drug Administration (FDA), CoolSculpting gently cools unwanted fat cells in the body thereby inducing a natural, controlled elimination of fat cells. Based on science developed by the Wellman Center for Photomedicine at Massachusetts General Hospital in Boston, Mass., in the United States, this breakthrough is based on a vast body of research that demonstrates that fat cells are more susceptible to cold and are selectively, painlessly and permanently destroyed. Starting several weeks after the procedure, cooled fat cells begin a process called "apoptosis" and begin to shrink and disappear. The body proceeds to naturally and gradually eliminate the cooled fat cells, reducing the thickness of the fat layer.
Unlike many other methods of fat reduction, CoolSculpting involves no needles, surgery or downtime. During the procedure, a non-invasive applicator delivers precisely controlled cooling to the treatment area thereby specifically targeting fat. Treatments last between one to two hours. Patients can have additional procedures for more pronounced effects if they desire. On average, each CoolSculpting procedure results in an undeniable reduction of fat in the treated area, and patients can start to see results as soon as three weeks following treatment, with the most dramatic results occurring over a period of two to four months in most patients.
About Julie E. Russak, M.D.
Dr. Russak is a board-certified dermatologist, a Fellow of the American Academy of Dermatology, and a member of the American Society of Dermatologic Surgery. She graduated with honors from New York University School of Medicine and completed her dermatology residency at the Dartmouth Hitchcock Medical Center, where she served as chief resident. She completed an Oncology Melanoma Fellowship with world-renowned melanoma expert Darrell Rigel, M.D., and is the recipient of the Marianne Salzberg Award in Dermatology and the Jonas E. Salk Scholar Award. In addition to having a thriving practice, she is an assistant clinical professor at Mount Sinai Hospital, where she teaches dermatology residents and medical students.
Russak Dermatology strives to provide comprehensive medical and cosmetic dermatologic care, addressing the skincare concerns of all ages. Our goal is to empower our patients with the knowledge and resources to combat skin conditions they may have been battling their entire life. Incorporating modern medicine and advanced esthetic technology, Russak Dermatology commits to guiding our patients through their skincare journey.
Contact
For more information about Julie E. Russak, M.D., and Russak Dermatology Clinic, visit russakdermatology.com or follow her practice on Facebook and Twitter (@RussakDerm). To interview or make an appointment with Dr. Russak, contact Juliet Cavallaro at juliet(at)russakdermatolgy(dot)com or (646) 873-7546.