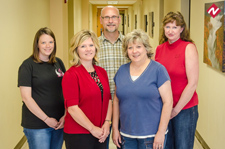 Harrison, Arkansas (PRWEB) July 07, 2014
Consistently high test exam scores have earned North Arkansas College's Practical Nursing (PN) program a ranking of #2 in Arkansas according to Practicalnursing.org. The Harrison colleges' 98.8% NCLEX-PN pass rate was surpassed only by Northwest Technical Institute in Springdale who had a 99.8% pass rate. Twenty-seven other state college programs were evaluated.
Established in the 1960's Northark's long-standing program is highly respected for excellent instruction, rigorous standards, and high quality graduates. Each year two classes are offered in August and January. Each class accepts 24 students. Upwards of 90 students have applied and the program always has at least 50 applicants who are seeking a coveted spot in the program.
Graduate exit surveys completed by students provide the litmus test for the success of the program. A solid 100% of students report they felt the program adequately prepares them for a job. Employers rated Northark PN program graduates 4.4 out of 5 for competent, caring, and professional behavior.
Demand for nurses remains strong. "Our job placement rate is 100%," says Debbie Day, director of the program. "The only students who don't obtain jobs upon graduation are those whose intent is to pursue a higher degree or choose not to take the exam for one reason or another."
Day said the pass rates reflect excellent and innovative instruction. Northark's program was the first in the state to offer online and blended (includes online and on-campus instruction courses to students. Courses such as Nursing of Geriatrics, Nursing of Mother and Infant, Nursing of Children, Mental Health and Leadership Management are taught completely online. Pharmacology and Nursing of Adults I and II are examples of blended courses.
"Our goal is to be the best program in the state," Day says. "I think if you look at the overall picture and not solely test scores – we are the best! Our talented faculty work hard as a team and really care about students".
"It's all about convenience for our students," Day continued. "Our goal was to reduce the amount of time students were on campus. As a recipient of the PACE Grant, we've worked hard to change our curriculum to make it more convenient for students and to encompass students from across the state.
Faculty collaborated to reduce student seat time, remove content, and block courses into 8-week blocks and blended online formats which resulted in going from a 5 day to a 3-4 day per week time period. These efforts met PACE Grant goals, Strategic Plan objectives of the College and made it more convenient for students.
Future plans for the program include self-paced programs, more blended courses, and increased use of simulation labs.