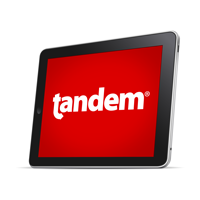 Lubbock, TX (PRWEB) July 08, 2014
CoNetrix is pleased to announce the release of tandem Social Media Management, the newest module of the tandem Security and Compliance online software suite. tandem Social Media Management is designed to help financial institutions develop and maintain a social media management program that includes processes to develop a risk management program, manage social media posts, and monitor social media activity.
tandem Social Media Management was first released in beta on April 16, 2014, and introduced at the CoNetrix K.E.Y.S. conference on May 7, 2014. The module is being released in three components:

Social Media Risk Management Program – Designed specifically for financial institutions to develop and manage a compliance and risk management program, including governance, policies and procedures, third-party management, training, oversight, audit and compliance, and reporting. The Social Media Risk Management Program is based on FFIEC Social Media guidance.
Social Media Post Management System – Allows you to create, approve, and manage your social media posts to multiple outlets from one location.
Social Media Tracking – To track, monitor, and report on information posted about your institution. Social Media Tracking is expected to be released by 4th quarter of 2014.
Some features of the tandem Social Media Management software include: management of all social posts from one location, simultaneous posting to different social media sites (e.g. Facebook and Twitter), ability to schedule posts for a future date, customizable authoring and approval workflow, and built-in security features, such as multi-factor authentication, multi-user access, and user activity log.
About tandem Security and Compliance Software: tandem was the first comprehensive online Information Security Program software solution designed to help financial institutions create and maintain a complete program to comply with GLBA and the Interagency Guidelines Establishing Information Security Standards. While tandem was designed as a complete solution from the ground up, it was fashioned into modules which allow for versatility. The modules include Risk Assessment, Policies, Vendor Management, Business Continuity Plan, Identity Theft Prevention Program, Internet Banking Security Program, Compliance Management, and Audit Management. Today, tandem serves more than 650 financial institutions, with over 13,000 active users in 45 states.
About CoNetrix: CoNetrix is a full-service information security and technology consulting firm with roots dating back to 1977. Founded in Lubbock, Texas, CoNetrix now serves customers across the U.S., providing a variety of technology and security solutions, including online security and compliance software, IT audits, security vulnerability testing, risk management, technology consulting, secure cloud hosting, and managed services. Security is the foundation of all its offerings, from software to consulting services. CoNetrix specializes in serving financial institutions – such as banks, savings associations, credit unions, and trust companies – as well as enterprises requiring a high level of security in their operations.