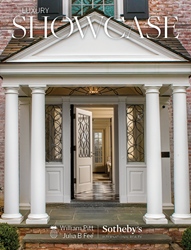 Fairfield and Litchfield Counties, Conn.; Berkshire County, Mass., Westchester County, N.Y (PRWEB) July 02, 2014
William Pitt and Julia B. Fee Sotheby's International Realty announced today the release of Luxury Showcase, a magazine publication highlighting the company's most luxurious properties. The online version of the magazine is available at http://www.williampitt.com/eng/luxury-showcase.
The total distribution was over 140,000, with a print distribution of 20,000 copies inserted in The Wall Street Journal on June 26th targeting specific zip codes in Manhattan, and an additional 2,000 copies distributed to the firm's offices and select global affiliates. A digital version of the magazine was sent to approximately 120,000 contacts.
The publication includes a selection of some of the most luxurious offerings currently on the market, alongside editorial content exploring additional notable listings, from a renovated classic 1930s estate in New Canaan, Conn. to an Italian Renaissance estate in Bronxville, N.Y. Readers are also introduced to renowned custom home builder David Fenton in Scarsdale, N.Y., and gain expert insight and views on the current luxury market. In addition, to meet the needs of an international audience, property descriptions are included in English as well as both traditional and simplified Chinese.
"We are excited to offer such a high-quality magazine that clearly parallels our brand's legacy," said Paul E. Breunich, President and Chief Executive officer of William Pitt and Julia B. Fee Sotheby's International Realty. "The publication allows us to uniquely share with consumers not only the extraordinary properties we offer, but also the stories behind each home and the unparalleled level of expertise we bring to the luxury market."
For any featured homes that may have sold since this publication went to press, visit williampitt.com and juliabfee.com to browse the firm's full listing inventory.