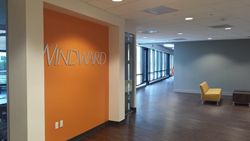 I believe that when people feel free they tend to mobilize and work with a broader spectrum of people
Herndon, VA (PRWEB) July 03, 2014
Windward, a niche consultancy focused on helping its customers design, deploy, and manage both traditional and next generation global networks and data-centers, announces the relocation to a new office to accommodate the future expansion plans and growing demand for a more collaborative environment. The new office located at 2201 Cooperative Way, Herndon VA provides increased capacity and meets the need for cross departmental collaboration. The inspiration for the design of the space came from Windward's core value of engagement, which translated, into lounges, huddle rooms, team neighborhoods, and café with a terrace that overlooks the Dulles Toll road.
"We wanted a space the reflected the company's drive towards an engaged workforce," said Sean McDermott, CEO and Founder of Windward. "For us that vision began with the concept of transparency. We wanted to remove barriers created by walls and really let creativity flow throughout the space. I believe that when people feel free they tend to mobilize and work with a broader spectrum of people. The move to the new space also aligns with our North Star which we are using as the guide for the future."
"The entire construction project was a highly collaborative process from start to finish," said HITT Contracting Project Manager Brian Lantz. "Through constant communication with Windward, FORM Architects, DTZ Construction Management, and HITT, we were able to deliver a high-quality, modern office space that supports Windward's strategic expansion goals."
About Windward
Founded in 1997, Windward is at the forefront of Service-Centric IT. With strategic consulting, unparalleled technical expertise, and our proven Windward Service-Centric IT Roadmap, we help our clients align the core competencies of process, organization, information, and technology to effectively address business and mission priorities. Windward offers a proven set of technology-independent solutions focused on the three core disciplines of Service-Centric IT – Service Management, Infrastructure Management, and Operations Management – to help our clients plan and deliver high-impact IT services. Windward is headquartered in Herndon, VA. More information on the company can be found online at: http://www.windward.com.