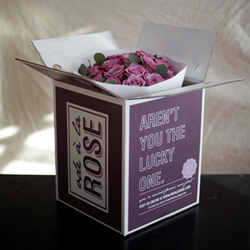 New York, NY (PRWEB) July 21, 2014
Ode à la Rose, the premier online flower delivery service based in New York City, announced today that it received an equity investment from Aquarelle.com Group, one of the leading online florists in Europe, and JMC Investment LLC, a family investment office.
The flower delivery company originally launched its service in New York City and has experienced tremendous growth over the last two years. The investment will allow Ode à la Rose to launch an overnight delivery service to most cities in the Northeast and add additional staff to support the brand's growth.
Ode à la Rose, with the contribution of Aquarelle, has developed state-of-the-art packaging that will allow them to ship bouquets in an anti-spill vase filled with water, an industry first for the US market. "Our bouquets are hydrated during shipping and ready for display straight out of our gift box," commented co-founder and CEO Olivier Plusquellec. "In addition, our partnership with Aquarelle will bring a wealth of experience and know-how enabling us to scale our business while ensuring that we maintain our high quality standards."
Ode à la Rose was founded by two Parisian expatriate bankers who were disappointed by the quality of online flower companies in the US.
"Every aspect about ordering flowers online was frustrating: the bait-and-switch pricing, the misleading images and most of all the poor quality of flowers," added Plusquellec. "When we started the company, we set out to raise the bar in the online flower industry by providing beautiful flowers and making sure every last detail is executed thoughtfully from the ribbon on our signature gift box to the rose petal covered tissue paper that wraps our bouquets."
Among the unique customer benefits, Ode à la Rose emails a picture of each freshly crafted bouquet to their clients after delivery has been made. "Our goal was to resolve the prevalent concern around the quality of flowers delivered to the recipient," commented co-founder and COO Louis Brunet. "This customer service detail further supports our brand approach to flower gifting as an emotional purchase, not just a commodity."
About Ode à la Rose
Ode à la Rose is the premier online flower delivery service in Manhattan. Founded in 2011 and headquartered in the New York Flower District, the company prides itself on providing the highest quality flowers and a premium client experience.
For more information on Ode à la Rose or to place an order, please visit http://www.odealarose.com or call (646) 660-5281.
Please forward all inquiries to Olivier Plusquellec at olivier(at)odealarose(dot)com.