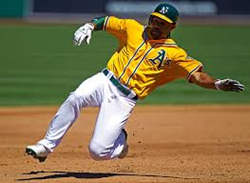 Denver, Colorado (PRWEB) July 03, 2014
The sun is shining. The kids are out of school. So what's everybody up to this summer, besides sleeping late, hitting the pool, playing video games and going to barbecues? According to Marta Ault at online discount ticket marketplace BuyAnySeat.com, they're also buying baseball tickets by the score.
"MLB Baseball is currently leading all other paid sports events in ticket search and sales activity online," said Ault. "Soccer tickets are also trending extremely high and we are beginning to see an uptick in NFL sales with several teams starting to release tickets to the upcoming season as well.
"Currently, MLB Baseball is midway through the 162-game regular season with about 80 games left for each team. That's why we're proud to offer sports fans the most complete and continuously updated selection of discount sports tickets online, with a worry-free guarantee to protect their purchase," continued Ault.
"To access the full line-up of cheap MLB Baseball tickets now available, including all of the seating options offered at each ballpark, customers can go to BuyAnySeat.com and click on the Sports Header, then MLB Baseball, and select their team and tickets."
Originating in 1869, Major League Baseball or MLB constitutes one of the major professional sports leagues of the United States and Canada. It is made up of 30 teams—29 in the United States and one in Canada. With the International Baseball Federation, MLB also manages the World Baseball Classic.
The sport consists of teams that play in the American League and the National League. After 100 years as separate entities, the two leagues merged in 2000 into a single organization led by the Commissioner of Baseball.
Currently, there are 2,430 games played in a regular season, with up to 20 more played by each team in the post-season. The sheer number of games played, as well as the sport's 30 teams and American roots, gives MLB Baseball the highest season attendance of any sports league in the world. (Source: wikipedia.org)
In terms of this week's current MLB standings standings, The Oakland Athletics, who have the best record in the majors at 51-30, are in the top spot in the ESPN.com power rankings for the second consecutive week. At 51-33, the Milwaukee Brewers remain at Number Two for the second straight week.
This week's biggest rankings jump was pulled off by the Seattle Mariners, who are up four spots to Number 10 after winning seven of their past nine games. (Source: espn.com)
The LA Dodgers, after 44 games, have sold the most tickets so far this season, with current estimates at 2,032,362 tickets sold. After 40 games, the St. Louis Cardinals have sold 1,728,127 tickets, while the NY Yankees are currently third in sales after 39 games with 1,661,800 in ticket sales to date. (Source: espn.go.com)
To shop for discount MLB Baseball tickets, visit BuyAnySeat.com.
About BuyAnySeat.com: An online ticket marketplace, BuyAnySeat.com connects sports, theater and other live entertainment fans to an extensive worldwide network of ticket sellers. The site's simplified listings and navigational tools enable fans to easily locate, compare and purchase inexpensive, discounted or lower-priced tickets to virtually all advertised sports and entertainment events around the globe.
The marketplace, which is PCI-compliant and Norton Secured, also provides customers with a complete Worry-Free Guarantee on all ticket purchases. Based in Denver, Colorado, BuyAnySeat.com is a subsidiary of Denver Media Holdings. For more information, please visit http://buyanyseat.com.