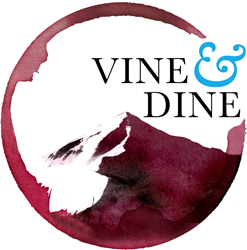 "It's exciting to host such an incredible event with an amazing lineup of wineries while learning from Master Sommeliers and enjoying fabulous foods," said Steve Merlino, Food and Beverage Manager. "The adventure tastings will especially unique."
Big Sky, Montana (PRWEB) July 04, 2014
The inaugural Vine & Dine Festival will take place August 14-17, 2014 with more than 20 vintners from around the world. The event will feature wine seminars, educational tastings, inspiring food, local art and music, and the headlining event, 'The Wine Stroll.' Google Global Food Program Chef, Scott Giambastiani, and world renowned Court of Master Sommeliers Fred Dame and Jay Fletcher will be presenting seminars and food demonstrations.
Festivities begin Thursday, August 14th at the Peaks Terrace in the Summit Hotel at Big Sky Resort with 'Asado,' an Argentinian style dinner offering a selection of seared meats from Montana Wagyu Cattle Company and paired with numerous Argentinian style wines. Chef Giambastiani and Chef Eric Stenberg of Free Range Kitchen (Bozeman, Mont.) will join Dame and Fletcher at this 'meat and greet' social gathering.
Friday, August 15th will comprise of a variety of events. The day kicks off with 'Tasting the Master's Way,' a seminar educating participants about color, clarity, aroma and taste in the world of wine. In the afternoon, Chef Giambastiani will prepare an inspiring four-course wine-pairing for 'The Food Revolution Luncheon.' Later in the day, 'Touring the Italian Countryside' seminar will be held by Master Sommelier Dame. Friday evening, The Peaks Restaurant in the Summit Hotel will feature a casual dinner setting pairing wines from Northwest regions with culinary small plates, Olive B's in the Big Sky Meadow Village will host Kistler Vineyards for a five course dinner paired with their award winning Chardonnays and Pinot Noirs, the Lotus Pad restaurant in Big Sky West Fork is serving a dinner pairing with the Brooks Winery, and a David Arthur Vintner Dinner at a location to be determined. The evening comes full circle at Big Sky Resort's Whiskey Jack's with live jazz music by McTuff.
The main wine tasting event, 'The Wine Stroll,' will take place on Saturday, August 16th at 5:00 p.m. throughout Big Sky's Mountain Village with an opportunity to sample more than 80 wines. Earlier in the day, wine enthusiasts can pair wine with an adventure at 'Toast at the Top,' which combines the Lone Peak Expedition and a Pinot Noir tasting or 'Zip to Zins' which includes the Adventure Zipline Tour followed by a tasting of American Zinfandels at the Peaks Terrace. 'Zip to Zin' includes the 'Zinfully Delicious Montana Mountain BBQ' featuring Big Sky Resort's Summit Hotel Chef Lisa Wildrick and Food and Beverage Director, Tom Nolan, also served on the Peaks Terrace. A special luncheon will be held at Andiamo Italian Grille in the Mountain Village serving 'Italian Alpine' foods. Seminars offered Saturday are 'Touring the Terrior of Spain (without the Bull)' and 'Cheese & Wine… One Stinky Good Time' with Kent Torrey of the famed "Cheese Shop" in Carmel by the Sea, California. After 'The Wine Stroll' enjoy the soulful jazz of Jazz Your Azz band at Whiskey Jack's and a mixologist cocktail contest.
Sunday, August 17th will finish off the weekend with a 'Where's the Wine' brunch at the Peaks Restaurant featuring mimosas, bellinis, the Summit Hotel's famous gourmet Bloody Mary Bar, and live jazz. Chef Giambastiani and friends will lead a panel discussion and lecture for ProStart Montana students in the Talus Room of the Summit Hotel, which is free and open for all to attend.
"It's exciting to host such an incredible event with an amazing lineup of wineries while learning from Master Sommeliers and enjoying fabulous foods," said Steve Merlino, Food and Beverage Manager. "The adventure tastings will especially unique."
Wineries confirmed to date for Vine & Dine are Cristom, Natalie Estates Winery, Carlton Cellars, Brooks Winery from Willamette Valley, Oregon; Amavi Walla, Dunham Cellars, Pepper Bridge, Reininger Winery and Bunchgrass Winery from Walla Walla, Washington; David Arthur and Robert Biale Vineyards from Napa Valley, California; Argento and Hand of God from Mendoza, Argentina; Kistler Vineyards from Sonoma, California; Green and Red Vineyards from Chiles Valley, California; Renwood Winery from Amador County, California; Justin Winery from Paso Robles, California; Milbrandt Winery from Columbia Valley, Washington. Also attending are Vine Connections, importers of Argentinean and fine Chilean wines, and Dalla Terra, importers of fine Italian wines. More wineries will be announced closer to the event date.
Individual event tickets are on sale now. Visit http://www.bigskyresort.com/events for ticket information and more information.