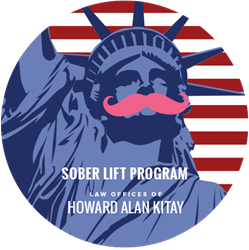 We made getting a safe ride home an easier choice for people, and we are proud to be able to do it again
San Diego, California (PRWEB) July 03, 2014
This Fourth of July, San Diego attorney Howard Kitay wants you to celebrate your freedom with a free ride home.
 
In an effort to reduce drunk driving on San Diego's roadways, The Law Offices of Howard Alan Kitay is picking up the tab for 125 rides home on Independence Day.
 
Through the Sober Lift Program, the firm is offering $20 credits for rides through Lyft, the rideshare app that allows users to request rides on demand from their smart phone.  Lyft cars are marked by the impossible-to-miss pink mustache on the front. 
Over the last five years, 785 people were killed in crashes involving drunk drivers during the July 4th holiday period.
"The Fourth of July is one of America's most deadly holidays, thanks to a high volume of alcohol related crashes. It's a major problem," said Kitay. "We want to be part of the solution and we feel like the Sober Lift Program is a good start."
Entering the code KITAY into the Lyft app, will credit users with $20 that can be applied towards rides anywhere in San Diego County.  According to Lyft's pricing guide, most rides up to 10 miles should be completely covered. The firm started the program for this year's Mardi Gras celebration and it proved to be a hit with revelers.
 
"For Mardi Gras, we made getting a safe ride home an easier choice for people, and we are proud to be able to do it again," remarked Kitay.
Headlined by the Big Bay Boom, San Diego fireworks shows alone bring out over 500,000 people on the Fourth of July, followed by events and celebrations throughout the holiday weekend.  
 
The average drunk driver has driven drunk 80 times before their first arrest.  In 2011, nearly 1.2 million people were arrested for driving under the influence of alcohol or narcotics.  In 2012, over 10,000 people died in DUI related crashes in the United States.
 
The Law Offices of Howard Kitay is committed to consumer safety and has been representing the people of San Diego since 1989.  For more information regarding the Sober Lift Program, visit kitaylaw.com
For more information on Lyft, visit their website. The code will be live at 4 p.m. on Friday, July, 4th.
 
Contact:
The Law Offices of Howard Alan Kitay
275 East Douglas Ave, #111                        444 West C Street, #220     
El Cajon, CA 92020                                     San Diego, CA 92101
(619) 442-0542                                           (619) 578-2222
Media Contact:  
Howard Kitay (619) 442-0542   pr@kitaylaw.com