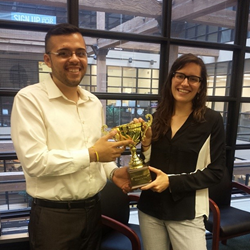 Chicago, IL (PRWEB) July 03, 2014
American Homeowner Preservation ("AHP") announced today that Asset Manager Freddy Constante is the employee of the month for June 2014. Constante's co-workers nominated him for this award with regards to some of the following criteria: exemplary individual achievement, commitment to quality in carrying out job responsibilities and positive attitude toward co-workers.
Constante joined AHP as an intern in April before transitioning to a full time employee in the role of Document Specialist. "I was in charge of getting the documents recorded—deeds, assignments, stuff that is needed in order to get the properties into our name and to able to sell them later on," Constante said. Constante recently took on a new role with AHP and is currently training for the position of Asset Manager. "I'm still transitioning right now. Luckily I have help from all the asset managers. I have a little bit of knowledge from what I was doing before, so I just need to get more experience."
Constante discovered the opportunity at AHP through a job fair at the University of Illinois-Chicago, where he earned a B.S in Business Management. "I saw a company that likes to help people, help homeowners, and that's where I wanted to work," said Constante. "I wanted to get into in real estate, but I also wanted to work at a company that wants to help homeowners."
Constante's coworkers have taken notice of his contributions to the company and the great value his versatility provides. "He steps up to build the team-- started out as an intern, then did a great job managing the document recording, saving the company thousands of dollars," one colleague noted. "Now, he is taking on a deeper responsibility as an asset manager."
Constante appreciates the positive work environment at AHP and believes it plays a significant role in the company's success. "Everybody helps each other. We have great leaders who are always willing to help me and help everybody," said Constante. "Everybody cares about our company and that's why we're successful."
Outside of AHP, Constante enjoys telling jokes and hanging out with his friends. As the employee of the month, Constante will select where the company will dine for its monthly luncheon. He is considering a nearby restaurant, Hackney's, located near AHP's headquarters in Chicago's South Loop.
American Homeowner Preservation was established in 2008 as a nonprofit organization before transitioning to for profit. Today, AHP purchases pools of distressed mortgages from banks at big discounts, and then offers sustainable solutions to families to avoid foreclosure and stay in their homes, while concurrently generating attractive financial returns for both the homeowners and investors. For additional information on American Homeowner Preservation, please visit https://ahpinvest.com, call (800) 555-1055 or email at info(at)ahpinvest(dot)com.