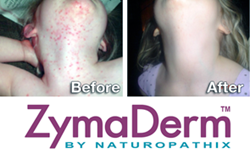 Summer is the prime time for molluscum contagiosum, a highly contagious and unsightly viral skin condition that is on the rise and infects over one million children in the USA each year.
Boise, ID (PRWEB) July 07, 2014
"Summer is the prime time for molluscum contagiosum, a highly contagious and unsightly viral skin condition that is on the rise and infects over one million children in the USA each year," says Briant Burke, MD, MS, the developer of ZymaDerm™, the most widely used topical anti-viral that rapidly and painlessly treats the virus.
The molluscum virus thrives in warm, humid climates. It is easier for children to become infected when they have more opportunities for greater physical contact with each other, especially during the summer. Children catch it when they come into contact with the skin of an infected child or on a wet surface infected with the virus.
Left untreated, the molluscum lesions can rapidly spread on a child, or from one child to another. It may occur anywhere on the body, except the palms of the hands and soles of the feet -- most often on the face, neck, armpit, arms, and trunk.
While the skin virus had occurred primarily in younger children, it is now becoming epidemic among adults.
Dr. Burke offers the following tips on how to avoid, recognize, treat and not spread the molluscum contagiosum infection to others.
HOW TO AVOID GETTING INFECTED WITH MOLLUSCUM CONTAGIOSUM
Good hygiene habits are the best way to avoid getting molluscum. Wash your hands frequently to wash away germs picked up from other people or from contaminated surfaces. Don't touch, pick, or scratch any bumps or rashes on the skin (yours or someone else's).
WHAT TO DO IF YOU THINK YOU HAVE MOLLUSCUM CONTAGIOSUM
If you have any unusual skin irritation, rash, bumps, or blisters that do not disappear in a few days, contact your health care provider to diagnose molluscum contagiosum.
MOLLUSCUM CONTAGIOSUM TREATMENT OPTIONS
Prior to the development of all natural ZymaDerm™, treatment options were limited to cryotherapy (freeze the molluscum growth), curettage (scrape to remove the fluid inside the bumps) and lasers (burn off the bumps). All three options are painful, can create scaring and traumatize children.
Creams that include certain chemicals (i.e., salicylic acid, podophyllin, tretinoin, and cantharidin and imiquimod) do not always remove the bumps and may be harmful. First aid creams may offer help with redness and itching, but are valueless in treating the poxvirus that causes molluscum.
ZymaDerm™ is the painless, all natural dab-on treatment that 86% of doctors surveyed use as their preferred treatment option (data on file). It is 100% guaranteed or money is returned.
HOW TO AVOID SPREADING MOLLUSCUM TO OTHERS
Keep the affected areas clean and covered loosely with clothing or a bandage so that others do not touch the bumps and become infected with molluscum.
When there is no risk of others coming into contact with your skin, such as at night when you sleep, be sure to uncover the bumps to help keep your skin healthy.
Before participating in sports where you will contact another person's body, share equipment, or swim in pools, cover all growths with clothing or a watertight bandage. It is best to avoid public swimming pools altogether until the lesions are cleared.
Don't share towels, clothing, or other personal items. Don't shave or have electrolysis on areas with bumps. If you have bumps in the genital area, avoid sexual activities until you see a health care provider.
Don't bathe children together if one is affected and the other is not.
ABOUT ZYMADERM™
ZymaDerm™ is a patented blend of powerful all natural anti-viral plant-based compounds that transforms the treatment of molluscum contagiosum from expensive and often painful procedures, such as freezing, burning, or surgical removal of the lesions, to simply dabbing on a pleasant aromatic blend twice a day, usually for less than a month, until the lesions completely vanish. It is FDA approved as a homeopathic drug. Its ingredients are officially included in the Homeopathic Pharmacopeia of the United States as useful agents. The potency and level of purity of the ingredients in ZymaDerm™ meet the most stringent standards of excellence.
ABOUT NATUROPATHIX
Naturopathix, Inc. was founded in 2002 to develop novel plant based therapeutic treatments for the relief of common medical conditions. The company is led by Briant Burke, MD, MS, a practicing physician and distinguished medical research scientist with over 20 years of clinical experience treating patients and publishing clinical trials.