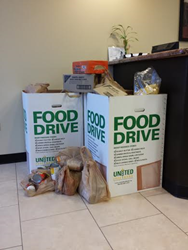 Arizona (PRWEB) July 03, 2014
The 2nd Annual IDEAL Christmas in July Food Drive begins on Tuesday, July 1st. IDEAL Physical Therapy will be teaming up again with the Community Food Bank of Southern Arizona in Tucson, the United Food Bank in Mesa and St. Mary's Food Bank in Phoenix to help feed those in the communities we serve.
Food donation boxes will be placed at all 20 IDEAL clinics. Those interested in donating nonperishable food in support of St. Mary's Food Bank, United Food Bank, and the Community Food Bank may drop off items at any of the IDEAL Physical Therapy locations. Marcus Cadell of IDEAL says, "We are glad to be helping out in our community however we can. Our staff really looks forward to contributing and encouraging others to donate as much food as possible for those in need."
Each of IDEAL's clinics will have a food drive box with a poster at the front desk and on the food box promoting this special event. Families in our communities need our help and the food collected will make a difference. The food drive will conclude on Thursday, July 31st.
Please join IDEAL Physical Therapy by increasing awareness and giving back to those in need. Your support is greatly appreciated. To find a location near you please visit http://www.idealphysicaltherapy.com.
ABOUT IDEAL PHYSICAL THERAPY
The primary goal of Ideal Physical Therapy is to improve patients' quality of life by providing rehabilitative and restorative services to promote pain relief. With 21 physical therapy clinics located throughout Phoenix and Tucson, Ideal Physical Therapy employs physical therapists specializing in all forms of physical rehab, including services such as hand therapy, sports physical therapy and orthopedic physical therapy services to promote recovery from hip, elbow, knee, neck and shoulder surgery and conditions. Ideal Physical Therapy's latest computerized patient care technologies maximize the overall patient experience and increase the quality time spent with a physical or hand therapist.
###