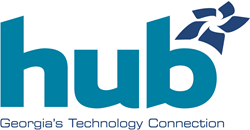 Hub Magazine is the print component of Hub, which is the multimedia brand of the Technology Association of Georgia (TAG)
Atlanta, Georgia (PRWEB) July 02, 2014
The latest issue of Hub Magazine was released today with Paul Carmody, Chief Marketing Officer at Atlanta-based Cbeyond on the cover.
Hub Magazine is the print component of Hub, which is the multimedia brand of the Technology Association of Georgia (TAG), one of the nation's largest state trade organizations dedicated to technology and innovation.
The magazine and its cover were unveiled at a special ceremony held at the Herman Miller Showroom in Atlanta's Midtown West area. Carmody penned the feature article for the issue which focuses on Georgia's Communication Services and Digital Marketing industries.
Other articles featured in the issue were contributed by a wide-range industry thought leaders:

Mike Neumeier, Arketi Group
Rob Osterwise, AT&T Emerging Devices
Terri Kruzan, Culture Sleuth
Hal Schkenger, Niche Labs
Kyle Freitas, JCS Consulting
Wain Kellum, Vonage Business Solutions
Richard Warner, What's Up Interactive
Lisa Rawls, Evergreen CFO
Robert Betzel, Infinity Network Solutions
Nadia Osman, College Hill Alliance
The issue also profiles emerging tech scenes in Athens and Macon/Middle Georgia, showcases Georgia Startup companies and provides a recap of the biggest technology headlines, TAG News and more.
HUB Magazine is the only statewide publication that's exclusively dedicated to Georgia's vibrant Technology community.
View the digital version of the magazine here: http://www.magcloud.com/browse/issue/749861.
About Hub Magazine
Hub Magazine features timely news, ideas, people and trends that are at the intersection of Georgia's Emerging technology community. Published quarterly, HUB Magazine reaches a potential 23,000 + subscribers via print and digital distribution.
Learn more at http://www.hubga.com.
About The Technology Association of Georgia (TAG)
TAG is the leading technology industry association in the state, serving more than 23,000 members through regional chapters in Metro Atlanta, Athens, Augusta, Columbus, Macon/Middle Georgia, and Savannah. TAG's mission is to educate, promote, and unite Georgia's technology community to foster an innovative and connected marketplace that stimulates and enhances a tech-based economy.
The association provides networking and educational programs; celebrates Georgia's technology leaders and companies; and advocates for legislative action that enhances the state's economic climate for technology. TAG hosts over 200 events each year and serves as an umbrella organization for 34 professional societies. Additionally, the TAG Education Collaborative (TAG's charitable arm) focuses on helping science, technology, engineering and math (STEM) education initiatives thrive.
For more information, visit the TAG website at http://www.tagonline.org or TAG's community website at http://www.TAGthink.com. To learn about the TAG-Ed Collaborative, visit www(dot)tagedonline(dot)org.