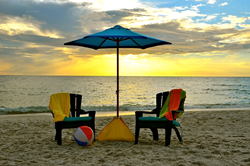 (PRWEB) July 03, 2014
beachBUB USA has laid the marketing foundation of the new beach umbrella base, beachBUB®. The marketing started with brand awareness through the Internet and grew with a national media campaign that landed several Fox morning news segments throughout the country. As a result beachBUB USA, which invented the beachBUB®, is now receiving overwhelming inquiries from customers looking for local retail locations that carry the beachBUB®. Part of this next marketing phase therefore is now moving into a strategy to handle impulse sales at coastal retail stores. "Now that we have seen numerous inquiries from people who ask where they can get it, we have pinpointed specific areas to fill the need of those inquires and provide a retail location to direct customers to," commented President Bill Schermerhorn.
beachBUB USA is actively working with interested parties but also looking for retailers who are looking to carry an innovative product that all beachgoers are looking for. "People are starting to recognize the product and are reaching out to us to sell the beachBUB®." beachBUB USA has begun the campaign to set up local retailers in beach communities. The flagship locations are currently set up in three states: Florida, South Carolina and North Carolina.
On a broader level, beachBUB USA is scheduled to film its first national commercial for the beach umbrella base, beachBUB® in Florida this week. The commercial is set to broadcast within the few weeks after production and will air in specific coastal markets.
About beachBUB USA:
beachBUB USA is a family owned and operated company based in Colfax, NC and envisioned in Naples, FL.
Marketing/Sales Contact:
Lucy Schermerhorn
http://www.beachbub.com
336-580-0189