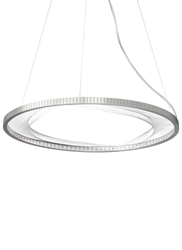 Skokie, Ill (PRWEB) July 03, 2014
The new Interlace LED suspension light fixture by LBL Lighting was chosen as the "Indoor Decorative" category winner at the 2014 LIGHTFAIR Innovation Awards®. Held this year at the Las Vegas Convention Center, LIGHTFAIR® International (LFI®) is the world's largest annual architectural and commercial lighting trade show and conference.
Inspired by the sculptural nature of large suspension bridges, the Interlace suspension by LBL Lighting has a notched, aluminum outer ring to accommodate hand-strung, steel cables which create an intricate, interwoven pattern. The LEDs entrenched within its circular structure illuminate its inner design cables to create a truly spectacular fixture. Three suspension cables allow Interlace to be hung flat or at virtually any angle, and it can be hung in a group at varying heights and angles to create a dramatic installation, particularly in a commercial space. Its dimensions are 29.5" in diameter and 1.1" high.
The LFI Innovation Awards had 261 submissions from 135 companies that spanned 14 categories; each submission was judged by an independent panel of lighting professionals. The winners were awarded for product entries that "exemplified the best in innovative design and thinking." The "Indoor Decorative" category included chandeliers, pendants, sconces and task lights.
About LBL Lighting
Headquartered just outside of Chicago in Skokie, Ill., LBL Lighting has been designing and manufacturing some of the most beautiful and creative lighting in the industry for more than 40 years. The company's diverse portfolio of high design-infused lighting products includes a wide range of chandeliers, suspension pieces, flush mounts, wall sconces, decorative glass pendants, architectural heads and outdoor wall fixtures. LBL Lighting's products can be found in lighting retailers and through sales representatives across North America. To view products, visit http://www.lbllighting.com.
About Generation Brands
As the parent company to LBL Lighting, Generation Brands is one of America's leading companies serving lighting retailers plus the electrical wholesale, home improvement and building industries. The company has an outstanding portfolio of residential and commercial lighting fixtures, ceiling fans and decorative products which provide value and growth to its customers and end-users. The company's success is derived from its ability to serve its customers and end-users with superior service, leading edge design and outstanding quality.