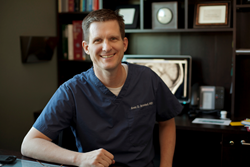 I'm thrilled to be offering ICL surgery to my Las Vegas patients.
Las Vegas, NV (PRWEB) July 03, 2014
Brimhall Eye Center, Las Vegas' premier eye surgery center, announced today that its board-certified surgeon, Dr. Brett D. Brimhall, M.D. this week performed his first implantable collamer lens surgery. The surgery, often referred to as "ICL surgery," places a Visian implantable collamer lens inside the eye just behind the iris and in front of the natural lens. The procedure is performed by using a small micro-incision and is a short, outpatient process.
Once implanted, the ICL provides the surgical patient with enhanced and corrected vision, much like patients of successful LASIK surgery treatments. However, many myopic (nearsighted) patients are not candidates for LASIK surgery due to their high prescriptions. For these patients, ICL surgery can offer a safe and effective way to permanently correct vision.
"I'm thrilled to be offering ICL surgery to my Las Vegas patients," said Dr. Brimhall. "Now there is a viable option for those patients who may not be candidates for LASIK or other laser vision correction procedures. I've seen first-hand the benefits of ICL surgery and can't wait to help my patients see better – permanently."
Dr. Brimhall was pleased with the results of his first ICL surgery. Within 48 hours of the procedure, the patient reported experiencing 20/20 vision.
For more information on ICL surgery or to see if you're a candidate, call Brimhall Eye Center at 702-263-2020.
About Brimhall Eye Center
Brimhall Eye Center is a cutting-edge, technologically advanced eye surgery center that offers Las Vegas patients a wide variety of surgical and non-surgical eye treatments. Specializing in LASIK surgery, patients of Brimhall Eye Center receive knowledgeable staff and cutting-edge surgical technology and techniques – all in a friendly, comfortable and inviting environment. Other services include glaucoma surgery, cataract surgery, eyelid surgery, dry eye treatments, migraine treatment and diabetic eye care.